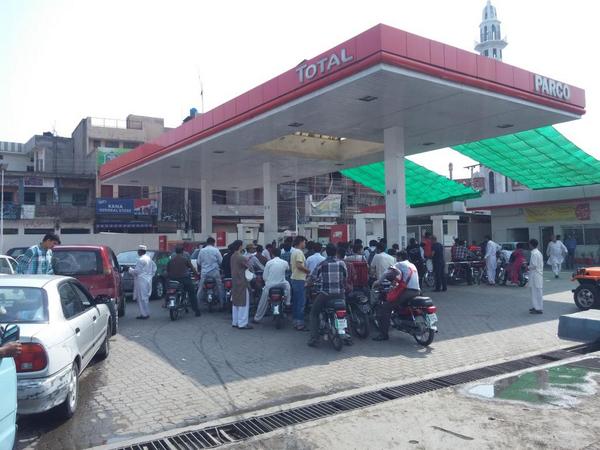 Traffic jams and fuel shortage add to the panic of motorists in Lahore and Islamabad
The resolve of Imran Khan's PTI and Dr. Tahir ul Qadri's PAT goes completely undisturbed, in the wake of the ensuing chaos leading to the Azadi March, motorists in Lahore and Islamabad are facing various difficulties from closure of routes and fuel stations; some of whom have gone dry while others have shut down abruptly owing to the uncertainty of law and order situation.
The demand had a sudden spike which the supply couldn't meet as motorists swarmed fuel stations to get their cars brimmed up to the top on Friday, however, fuel stations also shut down and those which remained functional for few hours, panicking motorists had to queue up for long hours to just be able to get few drops of petrol, enough to cater them in the need of emergency.
Due to road blocks and closures of different routes in parts of the city in preparation for a possible clash between government and protestors, motorists are already facing traffic jams and burning dead-fuel however, people are also filling up their tanks to full as there are chances that suspension of fuel supply and its sale could stretch well through the next week and beyond 14th of August, on precursor PTI's Azadi March slated of Independence Day.
Prominent journalists and Twitteratis had the following to say about the whole fiasco:
Zero fuel in Lhr and Isb means immense hardship to public. Nawaz-Imran boxing bout is knocking citizens out.

— Syed Talat Hussain (@TalatHussain12) August 9, 2014
Citizens of Lahore, Islamabad and several Punjab cities facing fuel shortage — and 4 days still left for Aug 14!

— omar r quraishi (@omar_quraishi) August 9, 2014
PakWheels.com ran a quick survey to understand the hardships faced by the motorists of Lahore and Islamabad regarding the current predicament situation in Lahore and Islamabad, our respondents had the following to share with us.
Our respondents, of whom 76 percent had cars while the rest our motorcyclists, said that they had trouble in acquiring fuel. 26 percent of the respondents reported that fuel pumps had closed within their areas.
Those that did went out in search of fuel, 22 percent had to stand in queues for about two hours two get fuel, 21 percent had to wait one hour whereas 16 percent got it within an hour.  All of this nuisance affected that their works and routine as reported by 81 percent of our respondents.
Long lines of cars in #Lahore, waiting to get fuel…. #PMLN trying to save "#Democracy"… Picture via Ali Fateh pic.twitter.com/6aZSm9jg4l

— Ali R (@Baahirezaman) August 9, 2014
Residents are using Twitter and other forms of social media to help one another by telling which petrol pump is open and has petrol in stock.
PSA: If anyone still needs #fuel, it's available at Total Parco Firdous Market, Gulberg 3 #Lahore #Petrol pic.twitter.com/3O5HlcBUWp

— Ameer Aftab (@AmeerAftab) August 9, 2014
Petrol & Food shortage in #Lahore. Civil Marshal law imposed by so called democratic govt. #PMLN #InqilabAkhriHal pic.twitter.com/Ytm68oFvQj

— Muhammad Asim (@M_Assim) August 8, 2014
Even people have to form queues to get fuel in bottles.
Long queues and ppl are standing for hours to get at least one litre of petrol. #lahore @PTIofficial @ImranKhanPTI pic.twitter.com/rPtBCEg9Wv

— Ali Jaffri (@JaffriFilms) August 9, 2014
While reports of petrol pumps being shut down by force were coming in abundance:
Shell Petrol pump in H Block Market DHA, Lahore is already forcefully shut down. Fill up your tanks while the remaining pumps are open

— Adeel Habib (@adeel786) August 8, 2014