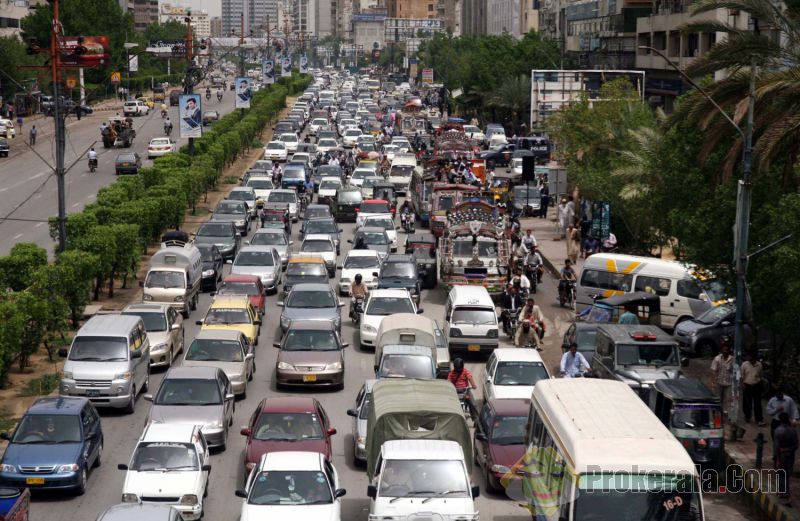 Traffic jams in Karachi result in losses worth of millions each day
In a research carried out by NED University after an initiative taken by Indus Motors, some startling figures have come forward regarding the daily traffic jams which result in losses that total upto millions of rupees each day.
According to the study named "Toyota Research on Traffic Congestion", a loss of Rs 510,000 is incurred to the national exchequers on every kilometer of blocked road whereas the city loses 663 million Rupees collectively everyday because of traffic jams. These losses than add upto an overall loss of 1.5 percent to the GDP as motorists remain stuck up on the streets of Karachi.
The study spans over a total of two years to be completed and took a cost of 3.9 million rupees while nine different locations were chosen for the analysis spanning 20 kilometers from Star Gate on Shara-e-Faisal to Pakistan Steel Mills.
The study further states that the 77 percent of the total traffic congestion in the 20 km stretch of road chosen for study happened between Star Gate and Malir while every motorist stuck in the jam lost 74 Rs per hour whereas if we extrapolated the losses to Karachi's entire road network of 1,300 kms, the losses would amount to $ 2.5 billion per year, and if the situation isn't resolved soon then by 2024, the losses would increase to $ 7.85 billion dollars per year said Dr Muhammad Adnan, an associate professor at the NED's urban and infrastructure engineering department who co-authored the study.
The study was performed by a research team from NED to know the economic impact of traffic congestion on the country's economy, where the team gathered data from the route aforementioned for over a period of 12 years. The capacity of the road determined in the city is about 3,400 cars per hour whereas a total of 3,500 cars per hour during peak hours were found which resulted in traffic congestion and the congestion is worsened with encroachments and capacity of thoroughfares are called into the equation.
While talking with The News, Adnan said, "the free flow from Star Gate Intersection to the Steel Mills was 17 minutes at a reference speed of 40 kilometres per hour. But due to the traffic congestion, it took more than 30 minutes on average causing a delay of 13 minutes per trip."

"This accumulated loss of time and extra fuel combined with the total number of trips made on this particular stretch of the road is what actually makes up the cost of traffic jams," he explained. "Based on our survey, the value of time for motorists commuting on this stretch is around Rs70 per hour. So any time wasted due to the delay will also contribute to the cost of traffic congestion cost."
Indus Motors played a major role through financing the study while Dr. Shabbir Ali, who was the lead of the study and chairman of NED University's urban and infrastructure engineering department said (quoted directly from The News), "findings from this study would help relevant authorities improve traffic management, road design and future urban planning. This is just the beginning of an effort, which if utilized effectively, could really help the government to improve our country's efficiency."