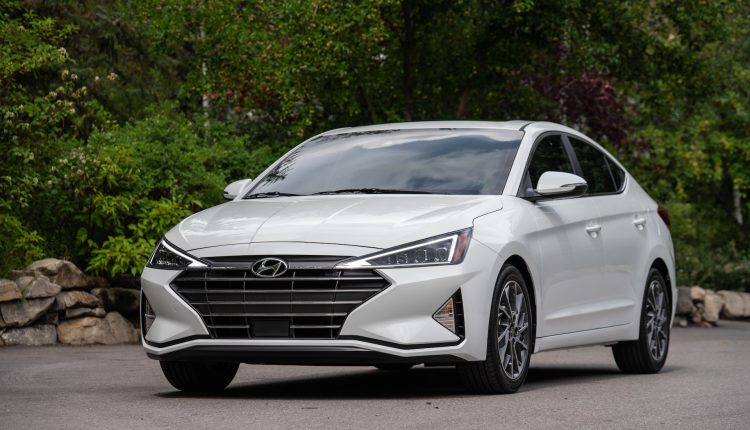 Expected Specs, Features of Upcoming Hyundai Elantra
Globally both Civic and Corolla compete with each other in the compact car category. Although there are many other cars in the same segment, the success story is well known for Corolla and Civic and generation after generation. When it comes to the automobile sector in Pakistan, buyers had not many options until recently. For decades Corolla and Civic have dominated the sedan segment as far as the locally assembled vehicles. Both models have made their monopoly; however, it seems after many years, buyers are going to have another option in the shape of the Hyundai Elantra. 
Here in this post, we will go over a quick snapshot about Pakistan bound Elantra. Elantra is a direct rival to Civic and Corolla in many countries across the globe. While we know it as Elantra, but in its hometown Korea and some other limited markets, it is known as Avante.
Hyundai Elantra Generation in Pakistan: 
Nishat / Pakistan domestic market will receive a 6th generation which arrived in overseas markets as the model year 2016 or 17 depending upon the region. Later for the model year 2019 onward, it got a facelift which received a lot of criticism and Hyundai started working on the 7th generation much faster for replacement. PKDM Elantra is a facelift 6th generation.
Globally, Hyundai has introduced the 7th generation Elantra, and it is now going for sale in many countries and replacing the 6th. I personally don't expect a 7th generation very soon in the local market. Regardless of how good the Elantra is, globally, Corolla and Civic are benchmark products, especially the Civic. Again this doesn't apply to our market for various reasons, like quality and refinement as well as the features and equipment. Anyways, here in this article, we will go over what we know so far about the highly anticipated Elantra.
Variants of Hyundai Elantra: 
Reportedly, the Pakistani domestic model will come with at least two variants. There is a possibility of three variants. Obviously, the features/ options will be decided on the basis of the trim levels. Trims can carry names like GLS, ULTIMATE.
Dimensions: 
As of dimensions; Elantra is 4620mm long, 1800mm wide while 1450mm in height. For our general understating the footprint, in comparison the current
Corolla in Pakistan is 4620mm long, 1775mm wide and 1475mm in height while the Civic 4630mm long, 1799mm wide and 1433mm high. You can see that all cars almost have an identical size with a very minor difference in dimensions. There will be some minor differences in the interior as far as space but not much different. As of cargo, Corolla has a trunk capacity of 470L while Elantra has 458L and Civic got 525L.
When it comes to ground clearance, it is one of the most talked-about subjects in Pakistan. Usually, a wider and lower vehicles have much better vehicles dynamics and stability in general. In case of Civic, Pakistan assembled Civic has modified height of 153mm [132mm overseas], Pakistan assembled Corolla stands at around 174mm. While the Elantra globally sits at 150mm and make it even lower than Civic or we can say have almost same ground clearance as of PKDM Civic. I don't know if Hyundai will alter and raise the vehicle for Pakistan market, but it seems like they will keep it at 150mm. This would mean that as of speed breakers Elantra drivers will face the same situation as of Civic.
Engine of Hyundai Elantra: 
The 6th generation Elantra is offered in multiple engine options overseas, like Petrol 1.4L Turbo & 1.6L Turbo, 1.6L Turbo diesel, as well as 1.6L and 2.0L, naturally aspirated / non-turbo versions. Pakistan assembled Elantra will come with a 1.6L NA engine [ confirmed ] rated at 126hp @6300 RPM. The top torque is [email protected] 4850RPM.
There will be Eco, Sport and manual mode. A typical manual transmission on the base model is also a possibility but no confirmation.
There are also unconfirmed reports that Hyundai might also offer a 2.0L NA engine in the top variant. This is the same engine, offered in PKDM Tucson [PKDM Sportage as well], so there is a due chance we see it in Elantra. The 2L engine in Elantra in overseas market pumps out around 154hp. Let's see if this becomes a reality. To compete for the 1.8L Civic or Corolla, Elantra definitely needs this engine. There is also a rumor that we might just get only the 2L engine option, again nothing known. And No!! We are not getting a 201hp 1.6L Turbo engine.
Transmission and Suspension: 
Elantra will come with 6-speed automatic transmission, somewhat identical to what you have in Tucson or Sportage. There is a possibility of 6 speed manual in the base version. Again no confirmation at this point. Expect a Drive Mode select option with Eco and Sport.
PKDM Elantra will come standard with ABS. There will be disc brakes on the front while drum on the rear wheels. McPherson strut as a front suspension while torsion beam axle on the rear. This will make Civic the only local assembled sedan with multilink rear suspension.
Alloy Wheels, Salient Features: 
There will be 205/55/R16 Alloy wheels and most probably with locally manufactured tires. The base variant might get steel wheels with caps [195/65 R15]. Electric power steering will be standard with tilt and telescopic function, while Cruise Control might also be a standard feature.
The 6th generation has a Macpherson strut front suspension while depending upon the variant, the multilink independent rear system is available and on a 1.6L Turbo Sport version in the overseas market. There is a due chance a Pakistan assembled Elantra comes with a Torsion beam rear setup. I hope we get a Multilink but has a low probability.
Safety: 
Electronic stability control, 2 front airbags will be standard. Traction control, hill start assist, Electronic Brake-force Distribution / EBD, Immobilizer will also come on all variants. Impact sensing auto door unlock can also make into PKDM version. I hope the company will provide side curtain airbags; however, I can't say for sure if it will make into PKDM Elantra although overseas all Elantras comes standard with side safety equipment.
Nishat didn't introduce the curtain/ side airbags in Tucson so, availability of these into Elantra is a question mark. Availability of any active safety system like blind-spot monitoring, pedestrian detection or forward automatic braking, lane keep-assist, or adaptive cruise control availability has a slim possibility. However, in the overseas market, Hyundai does offer it standard on most of its trim levels.
Equipment: 
Depending on the variant, we might see a slight change in the headlights. Possibility of full LED headlights with DRLs on top trim while on lower-trim we will see conventional projectors with DRLs. Depending upon the variants, there might be some differences as far as features typical for any brand/ model. Remote engine start, Smart key access with push-button start, steering wheel control, Bluetooth capable and possibly a 7″ touch screen display with mobile phone connectivity, USB, AUX will be available. Power driver and passenger seat adjustment will be available.
A local supplier will be providing an android based head unit for PKDM Elantra in case of built-in navigation like rest of PK assembled vehicles. Obviously, it will not be a certified android auto or Apple CarPlay compatible. The issue is the same as we have seen in the PKDM Tucson, which has a domestically developed head-unit. Chances are we get a factory-installed navigation system. The backup camera will make it to PKDM Elantra.
Sunroof, latex leather seating, leather-wrapped steering wheel, power adjusting driver seat, vanity mirror with lights, 60/40 Split rear seats with central armrest will also be available but no rear passenger ventilation ducts. Automatic headlights, the rain-sensing wiper can show up on PKDM Elantra.
A demo car on display in Lahore earlier this year had a single-zone manual climate control system; although internationally, a fully automatic dual-zone is available on higher trim levels, there is a possibility that a PKDM version gets the same single-zone manual unit as far HVAC is concerned. I hope the fully-loaded variant does get an automatic dual front zone system. Rear HVAC vents will be available.
Pricing of Hyundai Elantra: 
The million-dollar question; well, no one knows at this point. It might get a little more equipment than the competition and get a higher sticker price. Personally, I think, Elantra will start with a base price of around Rs3.5million and can reach near Rs3.8 – 4million mark. Overall Elantra pricing will overlap the Civic and Corolla pricing depending on the trim, and fully loaded Elantra MIGHT cost more than the 1.8L Civic Oriel. Elantra can also be a threat to Yaris sedan as well as the upcoming planned [GM6] Honda City and can attract buyers.
Some people are predicting a Rs3.1million price for the base Elantra, which I think is not viable. Keep in mind Hyundai-Nishat has always been ranting about their premium status, which they are not actually, and I fear their pricing strategy.
We should also know that any number above Rs4 Million can be risky for Elantra, as Rs4 to 5million brackets is getting populated with crossovers. Meanwhile, buyers, looking for a new sedan, are for sure cross-shopping these crossovers. This is a global phenomenon as buyers are more attracted to crossovers than sedans. Civic, Corolla are although direct rivals/ competitors, these crossovers are a bigger threat.
So, Hyundai should be careful in their pricing strategy. Also must not do the same blunder as they did with Tucson launch. Many people already have lost trust in Hyundai, and we don't need to go in those details.
Timing of Launch: 
Hyundai will launch locally assembled Elantra very soon. The company has developed early units have, and we might start seeing any teaser campaign from Hyundai-Nishat anytime.
Although PK Elantra will carry the label of "OLDER MODEL", the 11th generation Civic is still 18 months down the road and don't expect a new Civic before 2022 in Asian / RHD market, although the 11th generation USDM Civic launch is just a couple of months away.
As of Corolla, Pakistani should have got the 12th generation Corolla by now [ Pakistan is late ] although we will see the 11th generation Corolla X Package soon on our roads, as we already know about it. Maybe Toyota Indus is waiting for Hyundai-Nishat to spill the beans/launch Elantra and evaluate how the market reacts to it and then develop/ release the 12th generation Corolla accordingly. Rumours are 12 generation Corolla in Pakistan is less than a year away.
As discussed earlier, I hope Nishat wins buyers hearts this time with the pricing strategy, features and equipment in their upcoming locally produced Elantra. They don't want to mess up the way they did with Tucson like average eight months of delivery time. We will know and comment about the built quality once the thing lands at showrooms. Stay tuned, and we will share more updates as soon as we have it.