It's a good practice to check the brakes of a car, prior to speed it up. It has been noticed that the car owners in Pakistan ignore the importance of brake lights, which often proves disastrous. Working brake lights and indicators are necessary and a lot of road accidents happen due to the lack of good braking techniques. So I decided to pen down some car-braking techniques that can come in handy when driving.
Brake Lightly
Sudden hard braking can cause the car to loose balance. When you brake suddenly, the weight of the car moves to the front, which may cause the front wheels to skid into oncoming traffic on the other lane. It's really important to be light on the brakes. Braking lightly also gives the traffic behind, enough time to brake. A lot of accidents happen because drivers apply hard brakes. Hard braking should be done only in emergency situations.
Brake Early
Braking early gives the drivers behind you enough time to brake. When you brake early with a soft pedal, the brake lights alert the driver behind you. When approaching a stopped car or red traffic light, it is advised to start applying brakes from about 120 feet. But if you are doing speeds between 60-100km/hr you should start braking from more than 120 feet away. This distance gives you a plenty of space to brake and reduces the pressure on the brakes.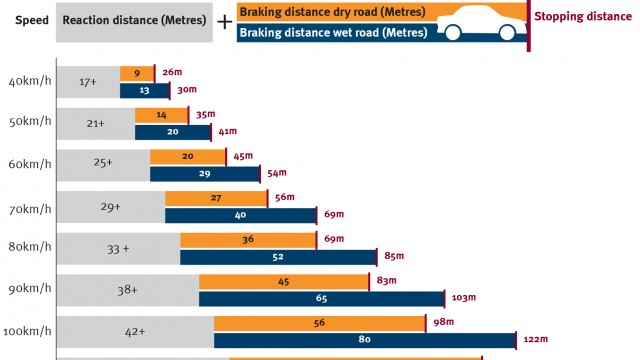 Avoid braking unnecessarily
When driving at high speeds, drivers will not expect sudden braking (except in rare cases). The faster the traffic the less time a driver has to apply brakes. Usually, when you are at high speeds, letting go of the accelerator is enough to slow you down. Braking unnecessarily at high speeds could cause traffic from behind to hit your car.
Letting go of the Accelerator pedal several seconds before applying brakes
When you let go of the accelerator, the car starts to slow down, so you need to apply less pressure on the brakes when braking. When you are approaching a red signal or a stopped car, you can let go off the accelerator and might not need to brake, as the signal might turn green as you get closer.
Pump your brakes to warn the drivers behind
Pumping your brakes is a good idea for threshold braking. Even if your car has ABS brakes and you are braking early, slightly tapping the brakes a couple of times flashes your brake lights alerting drivers behind you. ABS only kicks in when braking suddenly, which happens during emergency situations.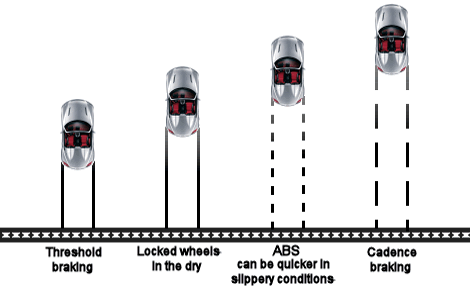 Steady Pressure When Braking
A good braking technique is to brake with a constant, steady pressure. At slow speeds, you can go easy on the pressure applied on the brakes. The higher the speed, the more the pressure you will need on the brakes. You will also need to apply more pressure on the brakes when going around a tight curve. Braking at steady pressure also reduces the damage on your car's tyres and brakes.
Enough space to swerve
When you are braking behind a stopped car, try to give enough room to swerve round it. It's a good practice to maintain enough distance from a parked car in case you might need to swerve round it in emergency.
How much was this article helpful? Do let us know in the comments section.