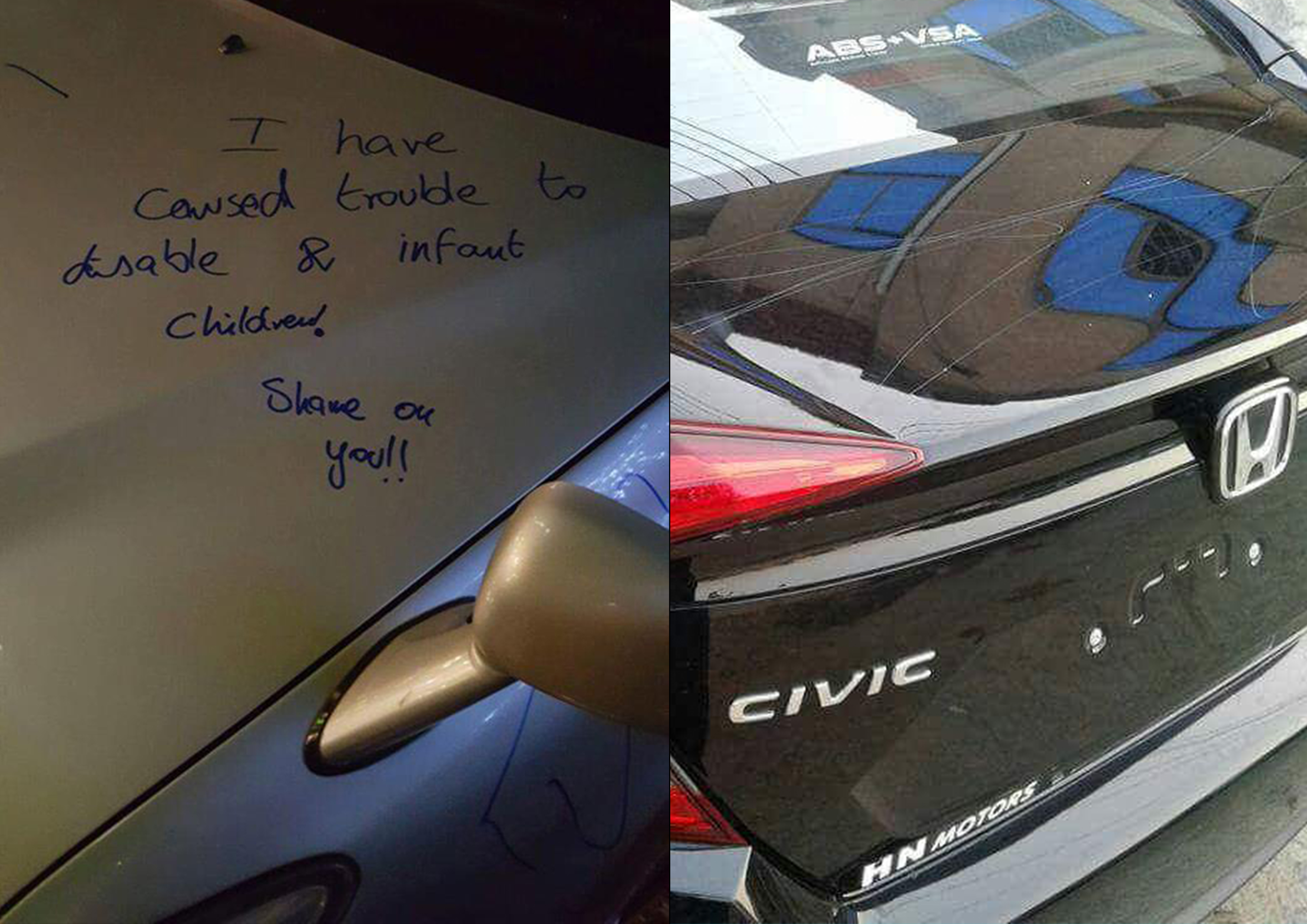 Is Vandalism the Right Answer to Lack of Parking Etiquettes in Pakistan?
In the past couple of days, I have noticed a lot of vandalism cases in Pakistan appearing on social media. And the overwhelming positive response on them forced me to write something on this matter.
Before I discuss my reservations and findings are on this matter, I would like to state that this article is just a part of my personal take on this whole situation.
So, what is Vandalism?
As reported by Reference.com, vandalism includes altering or defacing road signs and spray painting a person's property with the intent of disfiguring it. Other forms of vandalism include scratching paint off another person's car, defacing public benches and walls with graffiti, and breaking someone's windows.
So the bottom line is, if somebody is damaging the public or private property deliberately, it is called vandalism. (So for the sake of this article, I will be discussing this law for two cases)
Case-1:
As some of the readers might have seen the pictures of a new Honda Civic with a lot of deep-scratches on almost all of its body (exterior); that readers is 'Vandalism' in a nutshell.
According to the amendments in Sections 427, 428, 429 & 435 of the Pakistan Penal Code, 1860 Report # 57 any acts of mischief by damaging or destroying property or killing animals is punishable.
Case-2:
Alright, now that we know that Pakistan's law addresses 'Vandalism'; what about the deliberate cases of wrong parking and causing other people harm or blocking the roads for no apparent reason?
The answer to this question falls in the 'Grey Area' as opposed too black and white. I was having a chat on this issue with a lawyer and he said:
Although you get the result and satisfaction by acting instantly, taking law in your hand is always frowned upon and in majority of the cases it will backfire on you. So it is advised to be cautious and call the Police in these sort of situations
So the primary reason; why I mentioned this 'Grey Area' is because of the Jinnah Superstore Parking case, where a driver parked his car in the middle of the exit lane and left to do his own shopping, which caused issues for a lot of people stuck inside the parking.
I believe that a person can deal with these sort of irresponsible drivers in the following three ways as reported by Life hacker:
i: Before You do Anything, Calm Down!
First things first, calm down and think about the situation rationally. You don't always know what happened and why, even if it seems like the person was simply a sloppy parker. If you can assume the worst of people, you can take a moment to assume the best as well.
ii: Inform the Parker About their Infraction
Lots of people pull this sort of stunts in a lot of countries and it does not mean that people just go out and write on their car. That is wrong and it can get you in trouble. As I mentioned above; deliberate harm to any private property is punishable by law of Pakistan. So writing on someone's car (With a permanent/non-permanent marker) is liable to punishment.
Instead, it is more appropriate to write a message on a piece of paper and stick it on the windscreen wiper. Because let's be honest, entering in a confrontation with an irrational person could end poorly, the worst of which is violence. It's unlikely you'll convince the guilty party to change their ways in the moment, so your ideal goal should be to supply them with a message so that they could understand what they did was wrong.
iii: Call the Police
If you're in a parking lot, chances are, it is privately owned by the neighbouring store or another company with posted contact information. This means you have a means of filing a complaint. And if by some unfortunate circumstances, that information is not readily available, then don't hesitate to call the Police. Because, one call can take longer to merit the response of a mobile squad. A group of people stuck inside a parking place calling for help is definitely going to get the desired result.
Nonetheless, these state institutions are made for the sole purpose of keeping law and order in the country, so I personally believe that calling them in this situation is really the best solution.
Final Thoughts:
Case-1:
Damaging somebody's property just for the sake of a laugh is a very despicable behaviour. And to top it off, if reported: this activity is punishable. This sort of attitude on taking pleasure by harming somebody's property should be frowned upon and we (collectively) need to spread awareness to curb this attitude.
Case-2:
While I understand the inconvenience caused by the wrongly parked cars; a lot of time-taking matters into your own hands is not the answer. Calm down and think about the situation rationally, because taking matters into your own hands can potentially backfire on you. More importantly, I believe lauding this sort of behavior is not ethically right, because these sort of issues can be avoided by organizing campaigns on driving etiquettes from Traffic Police, educating people and putting up complaint facilitation centers by parking plaza owners.
And finally I can present the answer of my question 'Is Vandalism the Right Answer to Lack of Parking Etiquettes in Pakistan?' in a 'No'.
This was just my opinion on this whole escalating scenario and I believe (many of the more well acquainted Law Practicing) readers can shed some light on the outcomes of such matters. We, normal folks; have to understand that damaging somebody's property (On a temporary basis) to teach them a lesson (Even if they are wrong) is not legally right in most cases.
Please share your feedback on this issue…