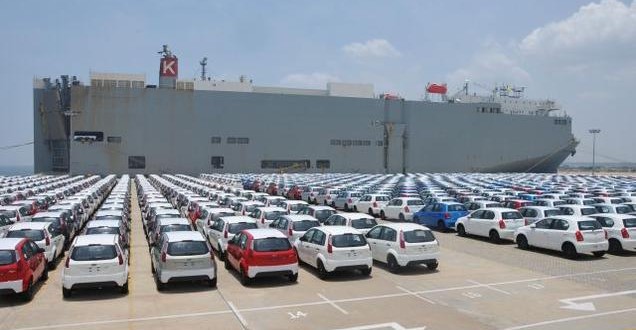 Vehicle imports fall from 49,300 to 34,500 units in 2013-14
ISLAMABAD: A 35% decline was noticed in the auto industry imports of Pakistan in 2014. Some 49,360 vehicles were imported in 2012-13 whereas 34,501 vehicles were imported in 2013-14.
A well-placed source at Finance Ministry explains that this is because of decreasing buying power of the customers as well as reducing tendency of investors in putting capital in the market. In the previous year, vehicle importers went for making huge investment in vehicle imports with a hope to get good profits and they definitely got good profits, but in the financial year 2013-14 the reducing buying power of the customers pushed the importers back from putting capital in the market.
As per official data available with this scribe demonstrated that 2530 buses, 461,56 cars and 334 trucks were imported in fiscal year 2012-2013 as compared to 506 buses, 32068 cars and 420 trucks were imported in fiscal year 2013-14. However, the source said that number of vehicles imported for special purposes significantly rose in fiscal year 2013-14 to 1422 from 235 vehicles in the previous year.
There are 9 countries that are major exporters of new and used vehicles to Pakistan which include Japan, UAE, UK, USA, Australia, Germany, China, Thailand, South Africa and Indonesia. United Arab Emirates remained third largest vehicle exporter country to Pakistan. UAE is the exporter of used vehicles to Pakistan because, as an international market, vehicles from around the globe are brought to UAE, refurbished and then exported to other countries.
As per reports China retains itself as the top producer in the auto industry with a production of 14-18 million production units  followed by United States with a production of 8.6 production units. Japan stands third with production of 8.3 million production units, Germany at fourth position with 6.3 million vehicle unit production, South Korea fifth with 4.6 vehicle production units, India sixth with 3.9 million units, Brazil seventh with production of 3.4 million production units, Mexico stands eighth with production of 2.6 million vehicle units, Spain remains ninth with production of 2.3 million vehicle units while France is the tenth largest vehicle manufacturing country in the world.
Moreover, Toyota, General Motors, Volkswagen Group, Nissan Pathfinder, Hyundai-Kia, Ford Focus Titanium, Fiat-Chrysler, Honda CR-V Touring, PSA Peugeot Citroen and BMW Group remained grasped top ten positions as per sale of their production units in the world market.
via Customs Today