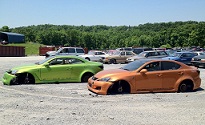 Watch two Lexus show cars get crushed
We all know the SEMA show for the type of modded show cars they put on display, with every company coming up with interesting type of modified cars from their complete range of cars and today, we're going to see two of them meet their end.
In the video, Brian Fox talks about the two vehicles being sent to the crusher – a twin-turbocharged Lexus IS F and special IS C – saying that all manufacturers crush their media fleet vehicles. That's not entirely true, though. Yes, many press vehicles are crushed, but they're commonly of the pre-production sort or are simply cars that were never issued VINs. Show cars, like these SEMA one-offs, are usually crushed, as well.
See the video below to see these two Lexus special edition vehicles prepared especially for the SEMA show, meet their demise. You may want to move our to 2:00 if you're only interested in the action.