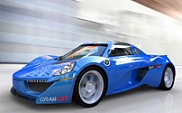 How do supercars look like when they are designed by engineers
The world has moved forward and we haven't been able to keep a track off it, which is why we're still fed 40 years old bikes and cars as new. The world however keeps on going fast, and like fashion designers, automobiles are also designed by either industrial or automotive designers.
Engineers although have a major input in a vehicle's design however they are not the ones who pen a design but this time, GrabCAD recently decided to turn the tables by giving engineers the chance to pen a body for a ready-made chassis by 500 Group. The site was flooded with 200 unique designs completed in just 40 days. The top quarter of those went on for final judging in two categories: street and track. 500 Group will then actually produce one or more of the designs through a General Motors Special Projects agreement.
The chassis makes use of a number of GM Performance parts, and is set up to make use of the E-Rod LS3, LS7 or supercharged LS9 V8 engines. One skinless chassis has already been completed for testing.
All the concepts are fully rendered with full description available here.