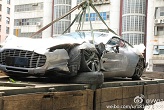 Aston Martin One-77 crashed in Hong Kong
We do not report car crashes from anywhere in the world but when it involves one of our favorite exotic cars, and also the first of those exotics to be totaled, it is our duty to remind the world that if you do not keep care of these precious exotics – than the day may not be very far that we run out of them.
This unbelievably beautiful Aston Martin One-77 was reportedly crashed in Hong Kong, the car which originally belongs to Shenzen, China.
Shmee150 who is exotic car spotter bringing us all the best cars different countries have, even more so, he also keeps a registry of all the Aston Martin One-77 and according to his registry, this car in one piece was only spotted a week ago and now post-crash pictures are made available by Shmee150 makes it one less million Euro Aston Martin One-77 in his registry.