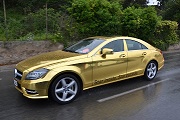 Mercedes Benz shows out all it's models in a Gold-chrome paint
We've seen many good cars spoiled by the chrome paint jobs done onto them, the worse blame may rest with the Arabs for having a peculiar taste in choosing colors but Mercedes Benz showed how wrong our thoughts were by rolling all their models in a Gold-chrome paint at the Cannes International Film Festival.
While we can expect that kind of bling from owners with more cash rather taste however, we didn't expect the same treatment to be carried out by Mercedes-Benz itself on its own vehicles – which makes us distraught at what they've done here.
We were wrong. Because that's precisely what the German automaker had in store for this year's Cannes International Film Festival. For the awarding of the prestigious 65th Palme d'Or, Benz rolled out a fleet of vehicles wrapped in gold in which it shuttled around movie stars and other celebrities. Among the attendees were the CLS four-door coupe, ML sport-ute and S-Class limousine.