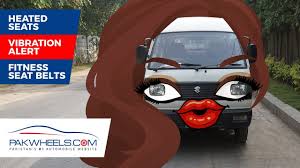 Why Suzuki Bolan is Still on Pakistani Roads? WHY?
Let's talk about Suzuki Bolan today because apparently, no one else is doing it. The box-shaped vehicle is in the local market for over three decades, and there is almost no change in the vehicle's shape. Without any major feature, even basic ones, the car still costs for over Rs11 lacs. Like, the car literally doesn't have any features or specs, still the company is charging over Rs1 million for it. If you don't believe us, let us share some insights with you, so you can understand why we are criticizing this machine.
Only One Keyhole: 
Yes, you read that right, the whole car has only one keyhole or  lock in it. You can lock/unlock the car only from the driver's side, and that is it. The company has not even offered lock on the front passenger side, which shows the "effort" manufacturers are putting behind making this car. It means if that lock is somehow is not working, you are locked out of the car, and you can't do anything about it. Although looks rather small, but it is a serious issue and surprisingly company has no foreseeable plan to 'upgrade' this design.
AC Vents: 
Not installing AC is another issue; the company does not even offer the AC vents in the vehicle. Like, the car's dashboard is simple plastic, and it is a massive disadvantage in countries like Pakistan. The weather in Pakistan remains hot for most of the year, and driving a car without AC and AC vents is indeed an excruciating task, and let us remind you once again, the price of this car is Rs1.1 million.
No Safety in Suzuki Bolan: 
The vehicle has literally no safety features. There are seatbelts, but they are not retractable means they stay in one place and will not be much safe. Furthermore, the car has not a single airbag in it, no surprise there we must say. In short, Bolan is a mere box-on-wheels, which goes round-and-round on the road.
Body 'Fittings': 
Although Suzuki Bolan is in the market for over three decades, the vehicle's fittings are still low standard. If you look at the gaps, body fittings and assembly quality, it seems like a new company in the market has made the car. The exterior parts are loosely fitted, giving a very negative vibe and experience as an owner.
Feels Like You Are 'On Fire': 
Bolan still comes with its engine under the driver seat, and it becomes very hot in summer. While driving the car in hot weather, you will feel like your body is on fire because of the engine. This makes driving extremely uncomfortable and risky because it may lead to an accident. Although new cars, i.e., Changan Karvaan and FAW X-PV, are coming with the engine in front, but Suzuki is adamant about keeping it under the seat, maybe for security reasons, we may never know.
No Stability and Brakes in Suzuki Bolan: 
Everybody in Pakistan knows the shape of the 'legendary' Bolan, and it is not hard to imagine how unstable the vehicle is. Due to its height, no bonnet and no trunk the car is extremely unstable, and you can feel it while driving it. The car wobbles on a bit of high speed, and it is very dangerous to turn it on that speed. Henceforth, you have to be very careful while driving this vehicle. 
Moreover, the vehicle still comes with 2 disc and 2 drum brakes, which have become an almost obsolete, even in Pakistan. And keep in mind, there is no bonnet in front; it is hazardous to apply its brakes in an emergency.
So, The Real Question About Suzuki Bolan!
And the real question is same, Why Suzuki Bolan is still on Pakistani roads? Like Why?