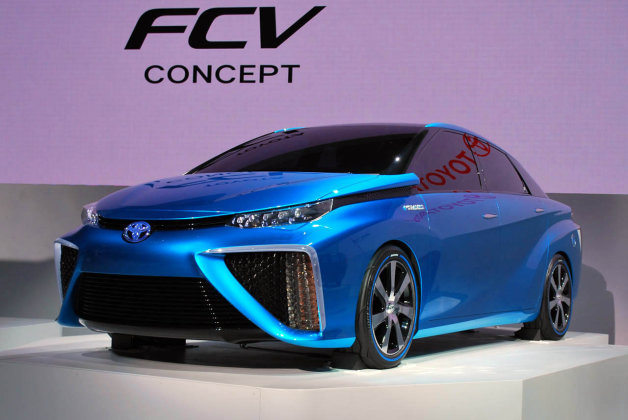 Toyota in the race to become the market leader in alternate fuel technology
Toyota is the specialist in the hybrid. Will it also become the market leader in fuel cell cars, which goes on sale in Europe next year?
It is written in big letters on the poster of the show "the future of the Automobile in Paris." For us, it was specifically in Pavilion 4 on the Toyota stand, not far from the Lamborghini Aventador that was chosen as the most polluting car of the World! The Japanese firm presented to the public its first Series sedan powered by hydrogen. And it's not premature revelation since the car will be on sale on the Continent within a year.
Oddly enough, for now this vehicle does not have an official name baptism. Toyota still calls it simply "sedan fuel cell." It could adopt the FCV name, seen on the concept the end of 2013 or usher in a new name. If all tastes are in nature, we must recognize that this vehicle has a rather peculiar physics. The front is pretty standard, with its fine grille and optical stretched headlamps. The car has a small sporty side with its huge air intakes. The back has triangular lights lowered to perfection.
Toyota has not yet provided much technical details about the car, but the brand promises performance and autonomy comparable to that of a gasoline car. To provide enough room for four people and lower the center of gravity, fuel cell, battery and hydrogen tank are placed under the floor. Under the hood is an electric permanent magnet block. The motor advance through a reaction between hydrogen and oxygen, which produces only water. So there is no pollutant discharge.
FCV Series will be launched initially in Japan, with a duty rate of about 50,000 euros. Toyota has not set the price for Europe. The question is whether the car will be marketed in France, the stations offering hydrogen do not exist yet. Toyota expects to be on all fronts for green cars. It is also preparing a new Prius to be unveiled in 2015.