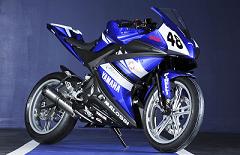 Yamaha to begin producing engines and latest bikes by 2012-13
We wrote about how government neglected Yamaha's exhaustive efforts to invest in Pakistan and bring their line up of bikes with latest technology, produce engines and have training facilities for our people. After nearly a ride of 1-1/2 years, Yamaha finally gets the permission  to carry out its investment plan in Pakistan. Yamaha was at our door steps for more then one-and-a-half year, our own policies were the hurdles in the way. Finally, our President on his recent visit to Japan instructed the Ministry of Industries and Production to get rid of all the bureaucratic hurdles in Yamaha's $150 million investment plan.
Chairman Board of Investment, Saleem H. Mandviwalla said that the groundbreaking of the plant would be held within the next two months and the plant would begin production by the end of 2012 or early 2013. Yamaha plans to produce 500,000 bikes per annum for export and domestic use. He also said that a Japanese company would build Karachi Circular Railway and elevated expressway from Port Qasim to Karachi while Mitsubishi company also wanted to pour in further investments in the country adding that this company was already having five project in Pakistan.
Several other Japanese companies have shown interest including Toyota to invest in Pakistan, successful meetings were also held with Japan International Co-operation Agency (JICA).
Our President, during his visit to Japan urged the Japanese Prime Minister to provide Pakistan-specific investment credit to those Japanese companies, which are interested to invest in the country.
Hopefully, the rest of the Japanese companies which have shown interest to invest in Pakistan will not be treated as Yamaha was, which eventually led it to abandoning the plan followed swiftly by our President into Japan and urged them to come back and carry out the investment.
However, the important matter is that they will be producing engines and long over due latest range of bikes (especially the YZF-R125) in Pakistan which can provide technical expertise to our people. And hopefully, we'll also get rid of the 5 decades old doodh wali Yamaha.