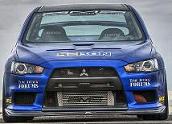 Evolution X is the last Evo
Senior Mitsubishi executive has said that the current Evo X will be the last Evolution model.  According to Gayu Eusegi, head of global product development for Mitsubishi, said that although there is huge demand for the car, but we must stop indicating the shift in Mitsubishi's coporate policy. He further added that our influience is now on EV technology.
Previously it was reported that Eclipse, Endeavor and Galant were killed as part of Mitsubishi's new ambitious plans for 2013 focusing on emerging markets and small, fuel efficient cars. By 2015 it has planned to introduce 6 new hybrid/electric and plug-in hybrid vehicles in its portfolio, all of which are unknown till now except the beginning of the line with Mitsu's i MiEV destined to be launched at 2012 Los Angeles Auto Show.
The current EVO X will complete its product lifecycle throughout 2012-13, but Mitsubishi has kept silent about EVO X after that.
Mr. Eusegi told upon commenting for a possible successor to the WRX-inspired EVO, he told autocar," Maybe the world can change, and maybe someday we can do a motor race by electric vehicles. Maybe then we can enter the market again."
So hopefully, the EVO range might be ressurected in the not-so-far future as we expect it with a newer, greener tint.