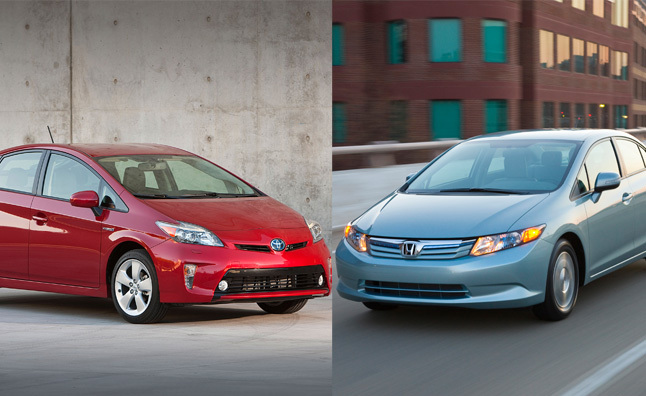 You Can Buy A 2012 Toyota Prius For The Price Of A Brand New Honda Civic
Pakistani auto market has expanded considerably after the used import cars have been allowed in the local market. Although it is can be detrimental to our local industry, that instead of letting car makers build their plants here, we are opting for a short term fix by letting the imports in but that is a whole different debate. Point of this article is to ponder the fact that you can get a far better deal in the same price if you go for a import.
Top of the line Honda Civic can cost you around 2.5 mil. rupees after all the taxes and registration cost. However, you can get yourself a 2012 Toyota Prius import in the same price as well. Of course domestic market cars will always have an edge on imports when it comes to spare parts or resale. But for an argument's sake let's look at specs of both cars.
Honda Civic comes in different variants, but we will be looking at its top of the line saloon which is named 'Honda Civic VTi Oriel Prosmatec'. This is the 8th generation Civic. It's a 1.8L family sedan priced at Rs 2,374,000. Civic is equipped with their latest generation R18Z1 i-VTEC engine which is an all-aluminum, in-line four cylinder, water cooled engine which is rated at 141 hp @ 6300 rpm at the crank controlled by DBW (drive-by-wire) feature and has a 5-speed automatic gear box. Honda claims this newer gen engine is better in every respect than its predecessor that was in 7th generation Civics. Torque is rated at 174 N.m at 4300 rpm. Stock tyres are steel belted 15" Euro Stars (195/65) mounted on a standard Honda alloy wheel. Civic is equipped with four wheel disk ABS with EBD (electronic brake distribution) with BOA system, where in case of emergency when brakes are pressed along with accelerator, the ECU cuts the feed to accelerator, and electronic power steering.
Car is equipped with ECON for better fuel consumption, and is equipped with driver and passenger side airbags. Moving on to body dimensions, following are the measurements in mm:
Overall height: 1450
Overall length: 4540
Overall width: 1755
Wheel base: 2700
Now let's talk about imported Toyota Prius. For the sake of argument, we will take the 1.8l version to compare with the 1.8l Civic, although there is a 1.5l version as well. As everyone knows, Prius is a hybrid, meaning petrol and battery powered motor working in synergy to make the car move and achieve good mileage.
1.8l engine in 2012 Toyota Prius is an all-aluminum 4 cylinder DOHC 16 valve engine with Variable Valve Timing technology. Combined electric motor and engine make 134 hp. Combustion engine is a sequential multipoint EFI combined with DBW, like our local Honda Civic. Prius comes with an electronically controlled CVT.
Since the whole point of Prius is fuel economy, it is no surprise Prius trumps Civic in this segment. Toyota Prius' estimated fuel consumption in L / 100km is as follows:
City: 3.7 liters per 100 km
Highway: 4.0 liters per 100 km
Its brakes are power assisted and come with what is called integrated regenerative braking. Body dimensions are as follows (in mm):
Overall height: 1491
Overall length: 4480
Overall width: 1745
Wheel base: 2700
It all depends on the buyer what suits him/her and what doesn't. But sometimes lack of information about the alternates can lead to buyer's remorse. We do not mean to tell you what is better and what is not, that is for you to decide. But the point of this article is just to inform potential buyers that there can be a better option available in their desired price.
What would you rather have?