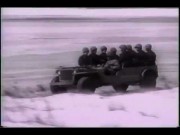 Ten-seater Super Jeep was in fact made by U.S. Army in 1944
This newly uploaded video which is actually a newsreel played in cinema during that time, is now on youtube and shows that Jeep developed a Super Jeep which had a longer bed to carry more firepower in form of ten soldiers.
The video goes further as the narrator tells that it was even better than the normal Jeep MB as it also carried more engine power and was better on off-road terrains as it demonstrates while jumping over obstacles where the normal short-wheel-base Jeep gets stuck (obviously for the lack of speed and ultimately momentum).
There are no other details as we've been trying to look over along with many other automotive blogs who have come across the video. If you have any idea or information regarding this Super Jeep than leave us a comment below.