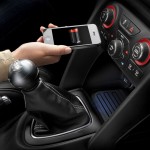 Chrysler adds wireless charging into it's cars
Chrysler's Mopar, which is an after market department has become the first to offer wireless charging in it's car if you're interested in paying just 199.99 US $ only. They're willing to fit the system which is basically a powermat.
Chrysler says in it's press release that the system will first be introduced on 2013 Dodge Dart.
A power bin, measuring 8.27 inches by 9.5 inches by 3.25 inches is slapped just below the center stack and in front of the center console. The bin has a built-in charging grid activated when customers drop their battery-powered mobile device when the vehicle is started.
The system has two components: a mat (which is plugged into a power source and has a spooled induction coil, creating a low-power electromagnet) and one device case (which has a second induction coil and plugs into a mobile phone or other portable electronic device). Charging the device is as easy as sitting it on top of the mat, and eliminates any extraneous wires or adapters.
But the photo attached is deceiving as the cell phone will need a special case which is the powermat to be able to charge your phone but that's included in the price and we're also a little far away from seeing cell phone charge by current flowing through thin air like cell phone signal.