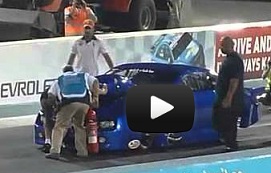 Watch a drag car explode in Abu Dhabi
Normally, Nitrous Oxide powered cars are designed to have an explosion inside the engine when oxygen meets nitrous oxide and explodes to create more power, but things went a little awry with this drag car at the Yas Marina Circuit, Abu Dhabi – the nitrous oxide was apparently leaking outside the engine and the when the driver floors it a bit, the nitrous oxides leaks more and explode into a huge fireball.
We got across this video on Bangshift.com, where this video was hosted displaying that it takes only a stupid person to create a huge explosion as when the driver first floored the car, fire erupted from the engine bay and without properly investigating and looking for the reason of the fire, the driver started the motor once again and boom!
Watch the video yourself.