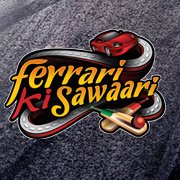 Ferrari ki sawari – a Bollywood film worth waiting for
Normally, I am not a big fan of Indian films since they are only about distraught love birds who for some reason, are not let to unite. But now however, there's a movie which car guys like us can look forward to.
Named Ferrari ki sawari which translates into "passengers for Ferrari" is an upcoming comedy Indian movie about a lower-middle class stupid car guy who leads a very simple life in the most civilized way he can but when his kid longs to get admission in the nation's leading cricket academy, the man takes the kid there but is devastated to know that the annual fee for it is 150,000 INR – beyond his affordability.
The kid also shares and understands the pain until the father who knows every super car in town with their owner's name, addresses, registration number and everything anyone can be least bothered about – so he is reminded of a woman which he had met when she was looking for a particular stolen Ferrari 458.
This woman had said to him that if he's able to get them a Ferrari for only two days, she will give pay 200,000 INR, and as he knows about all the cars and their routines and all that – he thinks of his ambitious kid with great cricketing dreams, the man takes the step and steals a Ferrari.
The movie than goes around with different fuck ups they have over the course of two days with the stolen Ferrari.