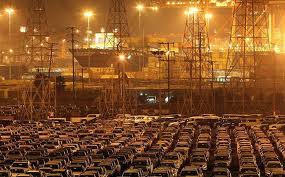 Government may relax used car imports age limit to ten years
The upcoming budget may bring good news for some and bad for most but one thing we're sure of now is that the auto assemblers wouldn't be getting any good news if the Government really does what they say they're going to do.
According to auto dealers, the government may allow used car imports up to ten year in the upcoming budget which is causing a great concern amongst the auto assemblers.
HM Shahzad, Chairman, All Pakistan Motor Dealers Association said that "we are hopeful that in the coming budget, the government will allow commercial import of used vehicles and relax the age limit to 10 years and will reduce the tariff on imported vehicles."
He said that in the upcoming budget "we have also asked the government to remove regulatory duty on 1800cc and above and also to increase the depreciation rate to 2 percent from 1 percent."
Moreover, he also said that it was becoming impossible for even the middle-income group to buy small segment cars sighting the rise in prices of the locally assembled. The relaxation in import of cars gives them better and cheaper priced cars.
But the small scuffle between the government, auto importers and the assemblers leaves the consumers in a decay of endless debauchery at the hands of the three.
Auto assemblers said that they are appalled with the apathetic attitude of the government against the auto assemblers which can compete with the new importer cars but cannot compete the 5 years old model that are considered obsolete and treated as junk in the rest of the world.
But we have to add, Mehran, Swift and Coure were also obsolete for the rest of the world and brought them here. Even all the motorcycles are all obsolete yet they are being assembled here as new.
More so, the solution lies with neither allowing ten years old cars nor with the auto assemblers. It lies with how Pakistan makes its Automobile policy, which is wrong. It makes it difficult for ambitious Pakistani entrepreneurs to make a Pakistani vehicle since the Automobile policy says that to make a car in Pakistan, the said auto maker must meet the volumes of the existing auto makers operating in Pakistan.