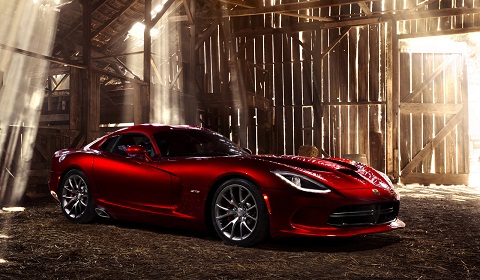 The all new 2013 Dodge SRT Viper revealed at NY Auto Show
Dodge had just release the 2013 srt viper at New York motor show. The SRT Viper and Viper GTS both will have same new logo called 'Stryker' by the viper club of America.
This new viper has been given the naturally aspirated  8.4 litre v10  which produces 640hp and 600lb torque. This engine also made a record as it has more torque then any other naturally aspirated  engine in the world. The new Viper is also 25 pound lighter then the old one, and tech that includes electronic mulitstage stability control, traction control and 4 way brakes. This new viper is devloped under collaboration with Fiat s.p.a flagship company Ferrari and Maserati.
The legendary manual gearbox is refreshed too and is 3.55 mili second faster then older one. The body is aluminum and interoir totally new .right now there is no information about it acceleration or top speed.
There are only two versions available now but later in 2014, ACR version of the Viper will be launched as well.