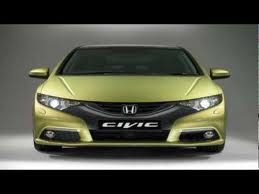 2012 Honda Civic face-lift to arrive in showrooms
The news that we broke out to you about Honda making another hesitant attempt to capture the younger generation by giving its already new Civic, a face-lift ahead of the designated time.
Well that moment has arrived and you all can now look at the new Civic thats all set to arrive in UK dealerships as of now.
The face-lift will hopefully follow elsewhere in the world.
Once it goes on sale, it will be available from £16,495 for the entry-level 1.4-litre 100PS i-VTEC SE.
"Our dealers are incredibly excited about taking the launch activity to the next phase and get customers in the car. Everyone here at Honda (UK) is looking forward to receiving customer feedback and we are confident it will be even more successful than its predecessor," says Martin Moll, Head of Marketing, Honda (UK).
"We have timed the launch of the TV advert to coincide with the first cars arriving in showrooms to really maximise awareness. The advert is a synopsis of the unknown journey the engineers took to continuously improve the Civic and is brought to life in a dramatic reveal of the new model at the end," Moll adds.