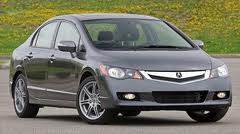 2013 Acura ILX is the next Civic
Toyota has Lexus and Nissan has the Inifiniti marques to compete with the German uber luxury brands such as Audi, BMW and Mercedes Benz while Honda's take on competing with these luxury cars is the Acura however it is quite lackluster in this segment of the market.
Now though, Honda seeks to revive its luxury brand and that is why you see a Acura concept vehicle in the upcoming movie, The Avengers but thats not about it, Honda has also decided to introduce a sedan intended for younger buyers unable to afford higher-end marques. It's part of an effort to improve Acura's image with new models.
The Acura brand is in trouble and is rapidly trying hard to revive itself or face doom therefore, the compact ILX is aimed at "Generation-Y" drivers who are turning 30, Honda said at a briefing in Las Vegas this month. The sedan will start "well under $30,000" when it goes on sale in early 2012, and will be shown next month at the Detroit auto show, said Vicki Poponi, assistant vice president for product planning at Honda's U.S. unit.
Acura, which last year marked its 25th year as Honda's premium brand, sees the 2013 ILX as the anchor in a new strategy to capture entry-luxury buyers and keep them in the fold.
Toward that goal, Acura is testing a new design vocabulary on the ILX that it calls "aero-fused dynamics." The full-year sales target for the car is 40,000 units.
The front-wheel-drive ILX will come with a choice of three powertrains, including a 2.0-liter four-cylinder gasoline engine with a five-speed automatic transmission and a 2.4-liter four with a six-speed automatic.
Acura also will market the 2013 ILX with a hybrid gasoline-electric drivetrain derived from the Civic Hybrid, which is based around a 93-horsepower 1.5-liter four-cylinder engine and a continuously variable automatic transmission.
The 2012 Civic Hybrid is rated by the EPA at 44 mpg in city driving and 44 mpg on the highway. Acura said its version of the hybrid system will be tuned more for performance and less for fuel economy.
The 2013 ILX will offer a variety of advanced features, including a rear camera, HDD and wireless access to Pandora (Web radio) and text messaging (SMS).
A concept version of the car will be shown in Detroit in January with huge cross-drilled brake rotors, aggressive 19-inch five-spoke rims and 235/35ZR19 Michelin Pilot Super Sport tires — none of which will be offered on the production ILX.