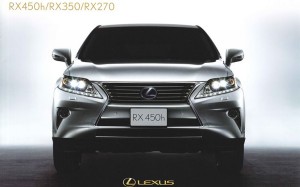 2013 Lexus RX pictures leaked before the scheduled reveal
Also known as the Toyota Harrier, the Lexus RX is one of the popular mid-size SUVs in Pakistan. However, the ones you see in our country can now be considered outdated as Toyota had planned to reveal the new RX at the Geneva Auto Show but the pictures of the 2013 model have been leaked on the internet.
Though there's no official information available yet, the pictures you see here are taken from a leaked Japanese brochure.
Although there's no official information available yet but the pictures seem to be from an legitimate Lexus brochure, the brochure itself shows an RX with a redesigned front bumper that adopts the company's new 'spindle' grille design, as seen on the latest GS sedan, along with new headlights that incorporate LED daytime running lights.
Other parts of the brochure show that the new SUV also sports redesigned alloy wheel designs and new taillight graphics while another picture shows that an F Sport variant is also joining the range for the first time.
This sportier option might not mean any extra ponies beneath the bonnet, but it does bring a unique body kit with a bolder front bumper with honeycomb inserts, body spoilers and bigger rubber.
We can also clearly see that the latest facelift on the RX incorporates Lexus' new aggressive design language that debuted on the 2013 GS and has also been seen on the rest of the Lexus' line-up.