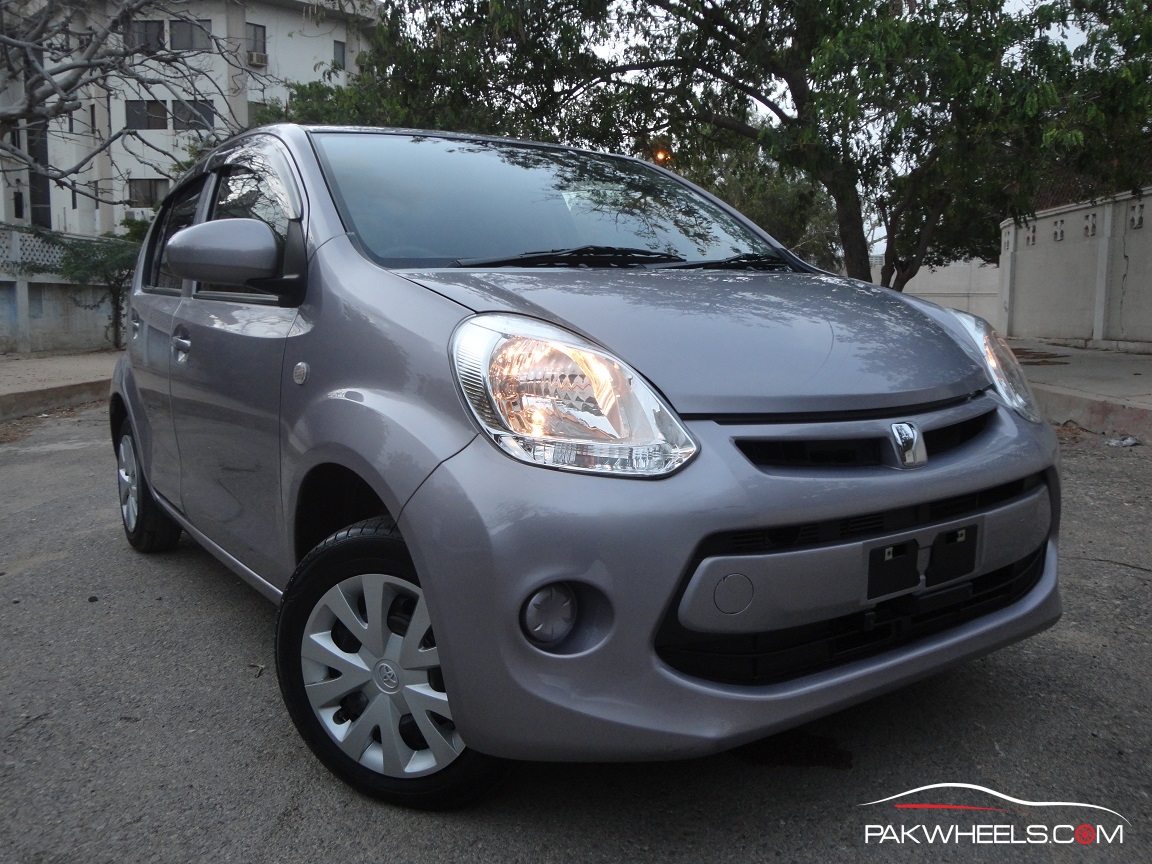 2014 Toyota Passo Facelift Review: Perfect Daily Driver For Pakistan
Toyota Japan introduced a face-lift of its on-going model, the Toyota Passo in the 3rd quarter of 2014, and a friend of mine recently bought this car and with his permission, I have managed to share a review of his new purchase (so thank you Waleed and Farhan). But before I start this review I would like to share some details of the car in question.
Make: Toyota
Model: Passo
Year: 2014
Variant: X Package (KGC30)
Engine: 1.0L 1KR-FE, in-line 3-cylinder
Color: Purple Greyish Mica
Mileage: 918 kilometers (yes, it is authentic)
Price, PKR: 1,370,000/- (excluding registration costs)
Introduction
The face-lift has not only brought a cosmetic change but has also done some significant tweaking under the hood. The slowly emerging signature mustache like of a look Toyota is giving to all of its newer models is present with this Toyota Passo 2014 model, more black plastic trim is seen between the bumpers, cuts and lines are much more noticeable. The rear lights are all-LED now including the 3rd brake light. The interior seat fabric pattern and color has changed along with the speedometer font design. Space for fog lights has been given even for the base model unlike before. The tires have been upgraded from the skinny 155/80/R13 to 165/65/R14 with re-designed wheel caps. All face-lift models now come standard with automatic start & stop function and traction control.
Performance
The engine is still the same, 1.0L 1KR-FE with 71HP/68 Ib-ft of torque but with significant internal improvements such as higher compression ratio, optimized valve timing, 37% thermal efficiency increase over the out-going model and a newly designed air box assembly with a redesigned filter and pipes. With these new advances, Toyota claims emission are down by 75% as compared to the first generation and a 30% increase in fuel economy has been seen over the older model.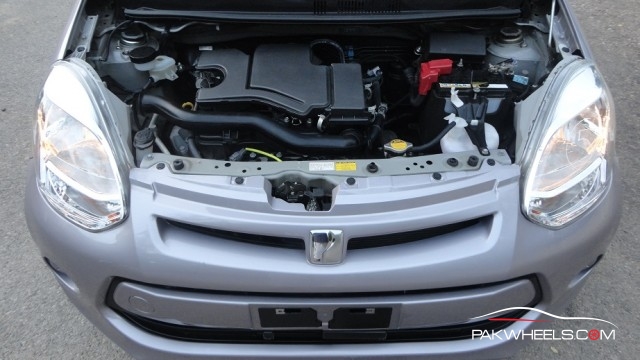 The transmission being a CVT-i is very refined and smooth with no abrupt shifting or whine. The throttle has become very responsive as compared to the older Passo with the 4-speed conventional automatic gearboxes which tend to have had a delayed acceleration response. It's no way near a performance vehicle but the acceleration for a city car with a 1 liter engine equipped with a CVT transmission is impressive. The vibration on idle and shivering conditions which the older model Passo suffered is not present in the newer model, the new improvements on the engine have really made noticeable changes.
Related: Browse Toyota Passo on PakWheels
Fuel Economy
I was using the car for two days, the fuel economy was fluctuating in between 18-22 Km/L with a light foot on the pedal throughout the usual stop and go traffic of Karachi. The auto start & stop function is very helpful, the engine shuts off once your car comes below 9 Km/hr and switches off your engine along with the A/C compressor and remains off for the next 30-40 seconds or before if you let go of the brake pedal, the engine starts itself again and the compressor kicks back in. This same automatic start & stop technology can be found on the Daihatsu Mira EiS (Eco Idle), Toyota Pixis (Eco Idle) and the Hana Plus (Eco Idle) variants of the pre-facelift Passo.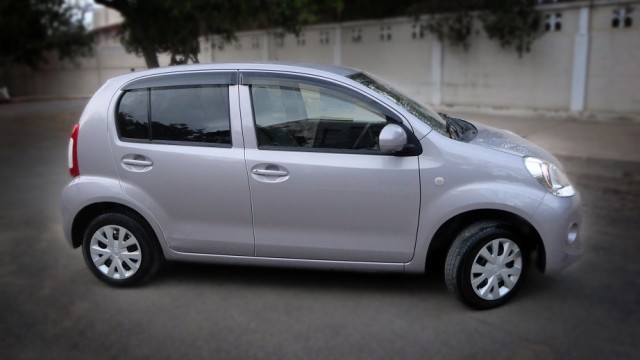 Unfortunately, the Passo is no hybrid, it does not have a battery pack in the rear to which it can keep the compressor running on idle when the engine is off. The main function of the automatic start & stop feature is to maximize fuel economy while stationary, as you may know, a vehicle on idle consumes much more fuel as compared to when it is in motion. As mentioned by Toyota.jp on their website, the new Passo gives 25-27 Km/L intercity. Both the automatic start & stop function and ECO mode have an 'ON' or 'OFF' option.
NOTE: The automatic start & stop function will not work unless you have your seat belt on and if the vehicle gear position is somewhere other than the 'D' position.
Exterior
The exterior is now more attractive as compared to the pre-facelift models. The pre-2014 models were a dull sight to look at, however with the revised front bumper and headlights, the facelift makes you want to have a second look at it. The rear all-LED tail lights are a treat to see at night time with all 24-LED bulbs shining bright giving the car a more expensive sort of a touch. The 155/85/R13 to 165/65/R14 upgrade on the tires make the overall exterior profile seem a bit more tougher and beefed up.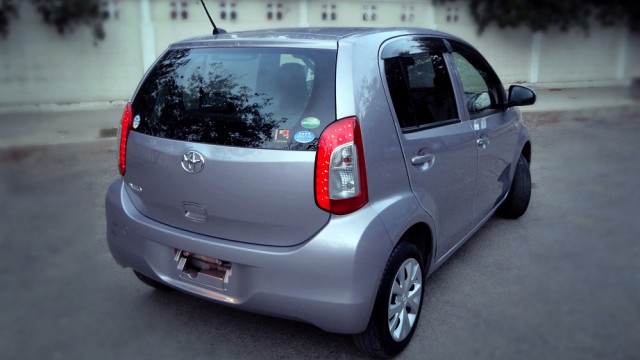 Interior
The Passo is well-known for it's spacious and comfortable interior. The interior for the face-lift hasn't changed much except for the interior color, seat fabric pattern, speedometer color and font size and with three rear headrests instead of two which have now been made standard. The recycled plastic feel of newer Toyota models is there, it seems too fragile and unsatisfactory at times but some soft touches such as the gear shift lever and steering wheel make the overall feel just about right. The cabin noise is little to none, road noise is minimal but is further noticeable during crosswinds and at higher speeds.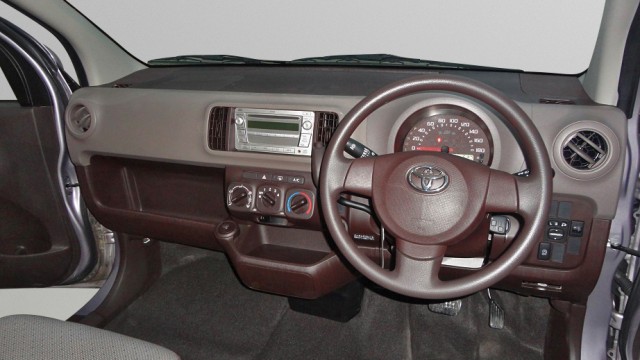 Safety
This particular model is a X Package meaning that it has dual airbags as standard (driver and passenger) other variants have up to 8 airbags. It comes with ABS and EBD as standard, also traction control (stability control) is a standard option for all models.
NOTE: Traction control is on all times, turning it off requires you to hold the traction control button for 5 seconds which will completely disable it.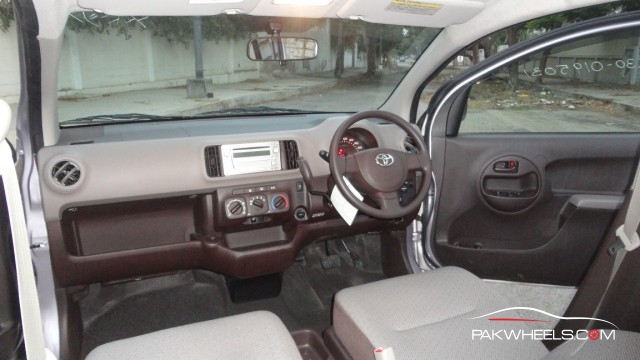 Verdict
The new face-lifted Toyota Passo is one of the best city cars money can buy in today's market and certainly checks out the value for money box. In it's price range, there are no vehicles that give you similar options and features. The facelift Passo has all of your specific city/daily driver car requirements. Decent performance, great fuel economy, spacious interior and a good looking exterior along with necessary safety features. If you are in the market and are looking for a hatchback which is in between the 660cc-1500cc bracket, is bigger than a Kei car and smaller than a Toyota Aqua and fulfills all of the criterias above then you should seriously consider this as one of your top options.
Related: Read more reviews on PakWheels.