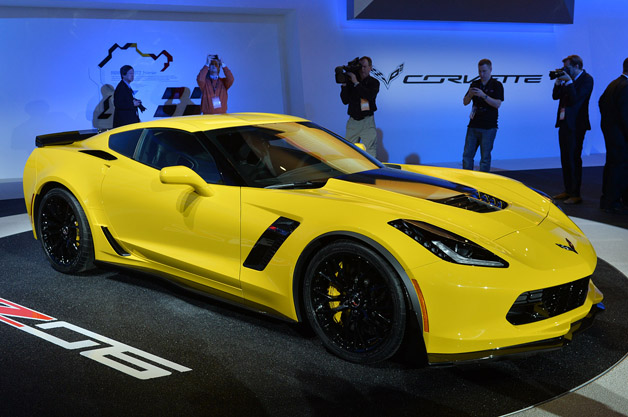 2015 Chevrolet Corvette C7 Z06 is the fastest 'Vette ever!
If you think the new C7 Corvette Stingray was awesome, you are wrong! The all-new 2015 Chevorlet Corvette C7 Z06 is what General Motors says is the fastest and bad-est 'Vette ever made!
The new Z06 is powered by a 6.2L supercharged V8 LT4, the supercharged being an integrated 1.4 Eaton spins at an astonishing 15-20,000 RPMS's thanks to new shorter rotors. GM claims the motor produces "at-least" 625 horsepower and 635 pound-feet of torque, this is the Z06 we are talking about, the ZR1 is yet to be announced, *GULP*.
Click on the thumbs to enlarge.
Chevy's Active Fuel Management system will keep your fuel average in sight as well as variable valve timing and direct injection. The Z06 will have an option of two transmissions available, a seven-speed manual or the new 8L90 eight-speed automatic with four gear-sets and five clutches which is overall lighter than the one in the C7 Stingray and fits in the same space. Paddle shifters are standard as reckoned.
But honestly, who will even think of going for the automatic gearbox when there is a 7-speed manual with a dual-mass flywheel and dual-disc clutch as an option available!?
The Z06 comes with 285/30/R19 Michellin Pilot Sport with 14.6" steel rotors and six-pot Brembo's for a snug fit. In the rear 335/25/R20's with four-pot calipers. The suspension is a tuned version of the Stingray's, with Magnetic Ride Control and an electronic limited-slip differential as standard.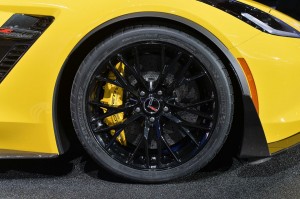 New front carbon fiber splitter, carbon fiber bonnet and adjustable rear spoiler are some of the cosmetic changes. The front-end welcomes you with a smile and daytime running LED headlamps along with projectors to go with. But the rear has that murdered-out 'I will kill you' squinted eyes sort of look. The quad-exhausts tips are standard. The carbon-fiber roof is removable, for the first time in a Z06. Kinda like the old targa top's.
Moving along towards the interior, the steering wheel has the flat-bottom race inspired design, the dashboard is mostly composed of carbon fiber and stitched leather to give that 'high-end' feel. Something new Chevrolet has offered is the Chevrolet Performance Data Recorder, allowing the driver to record a video of a hot lap on track. Seats are a mix of alcantara and leather with carbon fiber insets at the headrest, the rest of the interior comprises with a touch of aluminum here and there.
Pricing and performance figures are yet to be told by GM. However, General Motors tested the C7 Z06 around their Milford Proving Ground and it was faster than the 638-HP C6 ZR1. 

O' BOY, THIS IS GONNA BE SOMETHING!