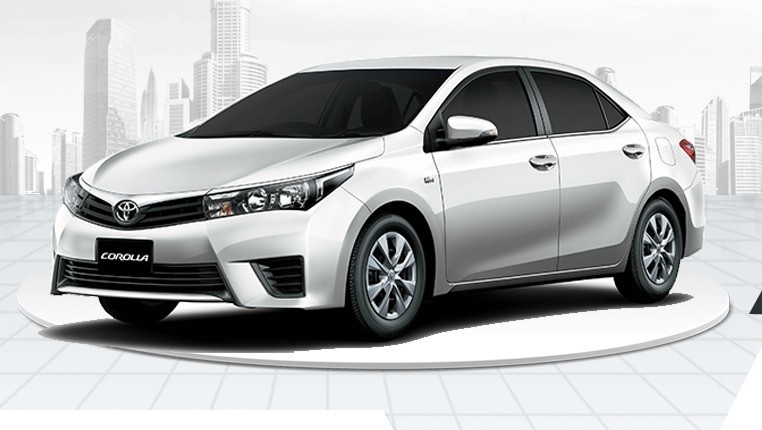 2016 Toyota Corolla GLi Automatic Owner's Review
This is my first review of a car. I am no expert and will carefully refrain from delving into mechanical jargon to impress people. I will analyse things that make more sense to an average guy, easier to appreciate and have a clear bearing on our choice of the car. Well, there is no denying the importance of money in buying the car of your choice. That aside, Pakistanis are woefully short of options as the market is dominated by only three players: Suzuki, Toyota and Honda. The consequences of this monopolistic cartel are not right as consumers are offered airbags as a luxury and not as a mandatory safety feature, inferior quality fixtures and high prices. I recently bought a 2016 Toyota Corolla GLi Automatic in regular white colour. First a summary: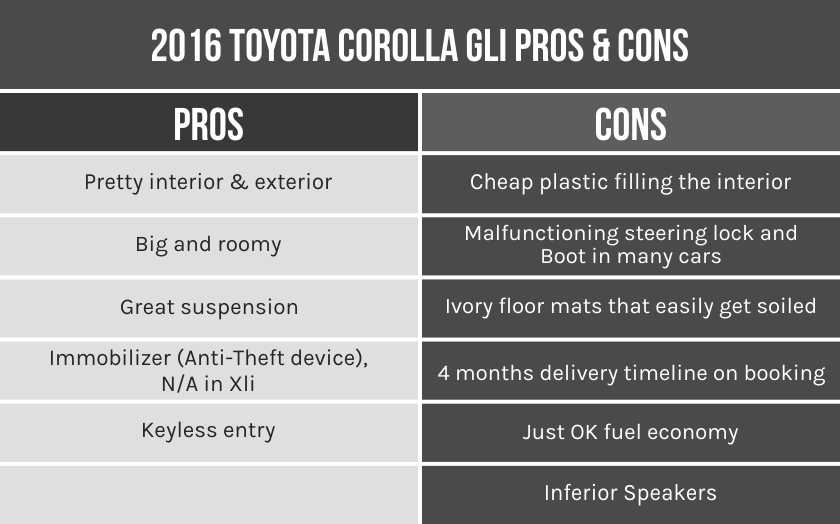 Exterior
It's a pretty car, no doubt. The new Toyota Corolla is imposingly big, more like a younger sibling of Toyota Camry. The headlights and rear lights are shaped aggressively to give the car a nice, sporty touch. The car looks beautiful from all angles, even more so in lighter colors as they allow you to appreciate the sleek contours and curves. This is perhaps the best looking Corolla to have come so far. And I assure you not all sequels are great. Toyota seems to have hit a chord with the Pakistanis and it is the car of choice for people who want their car to be sturdy enough to take some beating, not to mention the excellent resale price.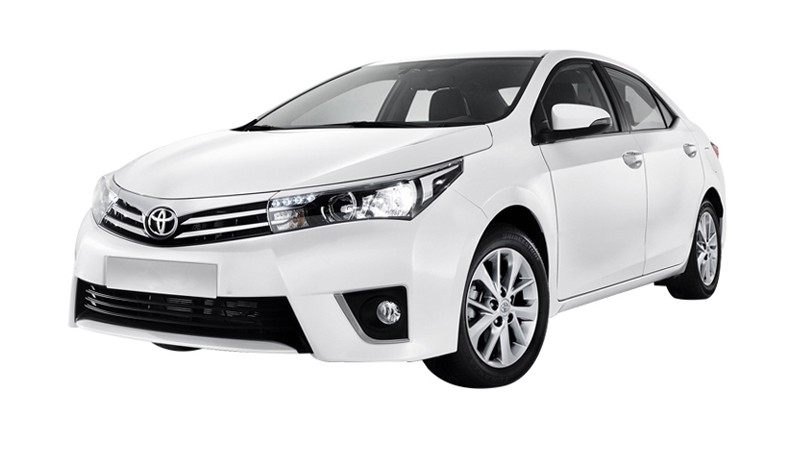 The colour palette on the offer depends on the Corolla you buy. XLi is limited to Regular White (Pearl White) and Black. GLi offers some additional colours. A very popular colour, Super White is only available from 1.6 Altis and onwards. The colour is bright white and is striking in the sunlight. I have never liked the Black colour on account of our dusty environment and unrelenting attention required to keep the car shining and clean.
Interior
The interior is mainly in ivory and black. The combination is decent and is vaguely quaint, reminiscent of the interiors years ago. In a way, the new Corolla harks back to the older dashboard designs as opposed to the cockpit like feel popularised by 8th and 9th generation Honda Civic. Both kinds of interiors have their supporters. I am a great fan of the digital speedometer of Honda as it does lend some oomph to the feel and experience. The dashboard of GLi comes with the usual round meters, but they look great and emit a soft, turquoise glow which looks fabulous in the night. The arm rests on the doors of all Corollas except Grande are covered with a cheap looking black fabric that is prone to rapid wear and discoloration. In Grande, the armrest is covered with leatherette which is much more durable and looks great too.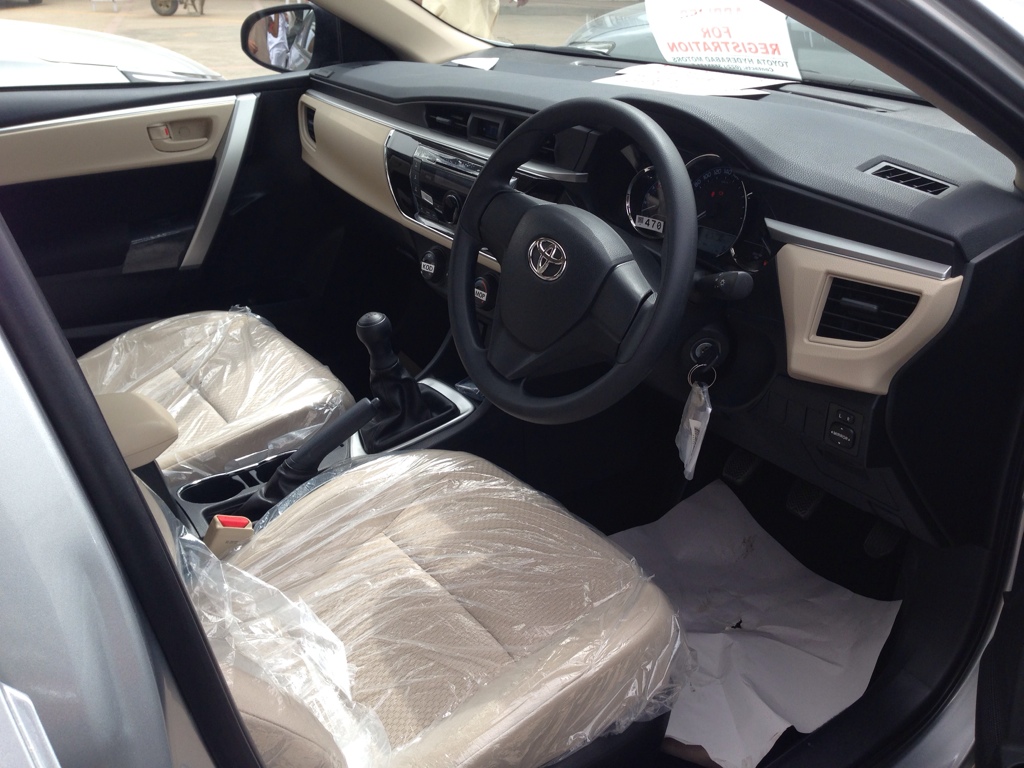 You can also easily spot cheap plastic in small fixtures as boot/fuel tank opening levers. These not only look cheap but are visibly fragile as well. Comparing the interiors of imported cars with the locally assembled ones, one can't help but notice the striking difference in the quality of plastic and fabric used. Local cars pale in comparison which is a shame. Imagine spending almost 2 million on a car that can't compete with an imported car worth half the price. The seats are OK and not particularly comfortable. I guess the curves of the seats are not deep enough to embrace the width of the body. It is more like sitting on a soft, flat surface. It could be a problem on long drives and hurt the back.
Also Check Out: Corolla GLi for Sale
Entertainment/Safety
XLi/GLi come with the standard music system without a screen. The screen starts with 1.6 Altis. Grande offers a 7-inch touch screen and Android-based entertainment system. Being a music lover, my first addition to my GLi AT was an entertainment system with a 10-inch screen and rear view camera. You can get these added at the authorised showroom/dealer, but that will cost a lot of money. And the difference is strikingly big. Go to a shop outside and you will get an Android-based 10-inch screen system for 30,000. The same will cost you 50,000 at the showroom. If you want a system which is not Android based, it will be cheaper ranging from Rs. 15,000 to 20,000. Don't forget to change the Corolla speakers as they are weak and fail to support music heavy on bass. Just not good enough. I wonder why Toyota would not consider spending few extra thousands to add a decent music system to an otherwise beautiful car.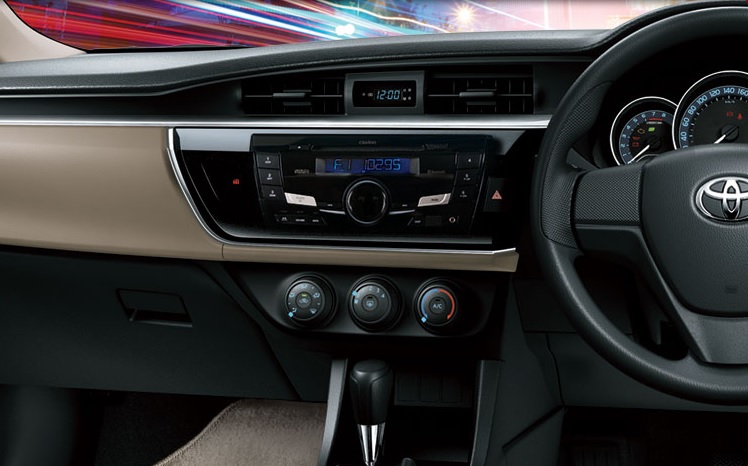 Toyota has just added a much-needed immobiliser to the Corolla from GLi and onwards. Immobiliser is an anti-theft electronic device that makes the car virtually impossible to steal unless the thief has your car key. It prevents the engine from running unless the correct key is inserted. This prevents the car from being "hotwired" after entry has been achieved and thus reduces motor vehicle theft. The immobiliser is not available in XLi, which is a shame. Given the incidence of Toyota theft, immobilizer should have been included in the complete range.
Verdict
It is a beautiful car with a lovely interior. The drive experience is positively smooth despite our bumpy roads due to the customised suspension system of Corolla. The fuel economy is just OK. My automatic GLi recorded 6km/l after the first tank fill which was horrendous. I had to get it checked and apparently there are no manual settings to fix the problem. They use a computer to correct the digital km/l reading. The supervisor at the authorised workshop failed to explain to me how a computer would fix any potential problem with the extra generous fuel injectors. My friend, however, told me that GLi AT should do around 10 to 11 km/l in the city with A/C. This average would increase on the highway.
There is also the problem of the steering lock with some cars. Apparently it has to be turned full circle to lock the car which is a pain. I had it checked, and they had to replace the inner assembly of my steering. So don't walk away from your car without checking the steering lock. The problem has been communicated to IMC and what they do about it remains to be seen. I must appreciate the very courteous management of Toyota Walton Motors (Lahore) in giving me a patient hearing and fixing the problem promptly.
Delivery woes refuse to go away. There is a delivery timeline of at least four months on all models expert perhaps Grande, the most expensive in the range. The market practice of premium to the extent of 100,000 for instant delivery continues unabashedly. I can't help but shake off the feeling that Indus Motor Company and dealers are hands in glove in perpetuating this malpractice which only hurts the common man.
All in all, given the limited choice and my budget limitations, Toyota Corolla 2016 is a satisfying experience with minor issues here and there.