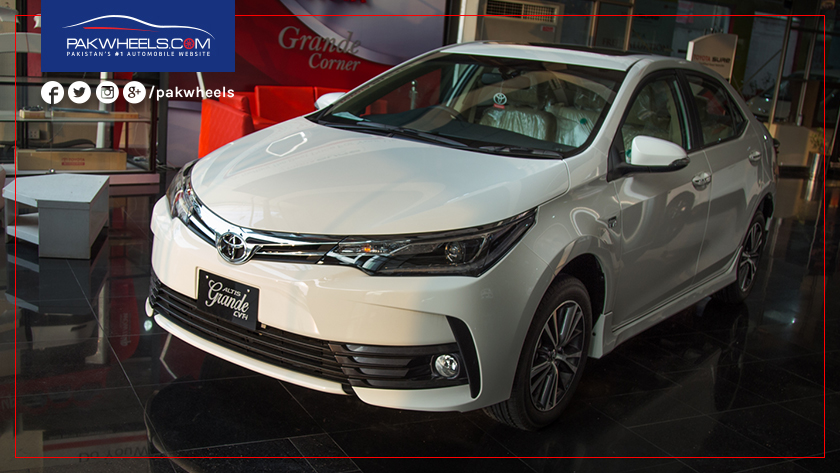 2017 Toyota Corolla Pakistan Compared To Thai Toyota Corolla – An Interesting Finding
Toyota Corolla is arguably the most successful sedan in Pakistan right now. And it has been like this for decades now. Toyota Indus Motors launched the 11th generation Toyota Corolla back in the June of 2014. Only a month or so ago, IMC released the facelift of the current Corolla. And needless to say, the new facelift version has once again hit the ball out of the park for Toyota and Indus Motors.
Also Read: 2017 Toyota Corolla Altis Grande CVT-i Detailed Review, Specs & Photos
The new 2017 Toyota Corolla in Pakistan is pretty loaded as far the features are concerned. And I am talking about the top of the line Altis Grande variant here. Toyota has not only updated the outer appearance of the car but has also refreshed the interior of the vehicle. But there are still few things that are missing in the new Corolla 2017. In this blog, we will be talking about features Toyota Pakistan decided not to add in the new car.
For this comparison, we will be comparing our Pakistani Corolla 2017 with it Thai counterpart. The reason is that Toyota Pakistan is closely connected with its Thai counterpart. Both the new Toyota Fortuner and Toyota Revo are being imported from Thailand. And the Corollas are also similar. So our point of reference in this blog is going to be Thai Toyota Corolla.
Before I started researching for this blog, I was convinced Toyota Pakistan has left a boatload of features and tid bits in the new car compared to the international model (Thai). But I was pleasantly shocked to learn that there isn't anything drastic missing in Pakistan Corolla that available in Thai Altis. The extra number of airbags is the only major thing that is not available in local Toyota Corolla 2017. Thai Toyota Corolla has additional side airbags, side curtain airbags, and driver's knee airbag whereas local Corolla only has two; one for driver and one for the passenger.
And the fact that Thai Corolla is also available with a CNG kit which of course is missing in Pakistani Corolla. Other than that, there are few different types of garnish pieces, materials, and fabrics that are different on both vehicles.
Driver aids like linear start assist, vehicle stability control, and ABS, etc. are present in both local and international models. Pakistani Corolla has a new 9″ touch display whereas Thai Corolla has a 7″ unit.
As you all know, top of the line Corolla is called Toyota Corolla Altis Grande here. Whether its manual or automatic, that is beside the point. On the other hand, it is Toyota Corolla Altis in Thailand; no Grande. A lesser variant is available called Corolla Altis ESport. Toyota Corolla Altis Navi is for 1,079,000 Baht whereas Corolla Altis ESport Option is for 979,000 Baht. Of course, there are other cheaper variants available as well. On the other hand, Toyota Corolla 2017 in Pakistan costs PKR. 2,549,000.
One can argue that Corolla cars available in North America or Australia have way too many options. And maybe we will reach that level one day. But for now, we must commend Toyota Pakistan for the job well done. Whether you like it or not, Toyota Indus has actually made a pretty decent package this time around.
If I have missed any specific feature absent in Pakistani Corolla, do mention it in the comments section below.