For all those Corolla diehard fans, its official now. The unveiling of your favorite car took place recently and there is so much in-store for you to get your hands on the new model as soon as possible. Toyota hasn't left any stone upturned to amaze its fans and here is the major scope that our experts gathered for your eyes only.
Also Checkout More Details of New Toyota Corolla 2018
Evaluating Of The New Toyota Corolla
As the brand has included some hi-tech formulation in the new series, the pricing also got a bit more than what was previously quoted on many news reports. We have included the previous and current price range for you to have a complete on-price pack for each of your choice variant:
Variant                               Previous Price                                       New Price
XLI                                           1,729,000                                                     1,759,000
GLI                                           1,859,000                                                     1,889,000
GLI Automatic                       1,934,000                                                     1,964,000
1.6 Altis                                    1,994,000                                                     2,149,000
1.8 Altis Manual                     2,079,000                                                    2,224,000
1.8 Altis CVT                           2,204,000                                                    2,349,000
1.8 Altis Grande (M/T)         2,239,000                                                    2,399,000
1.8 Altis Grande CVT             2,389,000                                                    2,549,000
Tyre Size before the facelift was 195 / 55 R15 and as of now you will get 205 / 55 R16  – However, if you must know these are the highly durable tyres for better speed grip on the road.  The above is an extract from the official Toyota Website.
Preceding Glory Highlights
Toyota has held its preceding glory with the accumulation of some of the exclusive features in the Toyota Corolla GLI and Altis models of 2017. Some of the variations that you will come across in the new model are:
16 Inch New Alloy
IS OFIX seat anchors
Exterior uplifts
Sleek headliners and LED tail lights
New 9″ infotainment screen
Dual SRS Airbags
Cruise control
Sports drive mode and paddle shifters
New Side Skirts
Smart Entry (In Altis Grande variants)
Push Start button (In Altis Grande variants)
Vehicle stability control (In Altis Grande variants)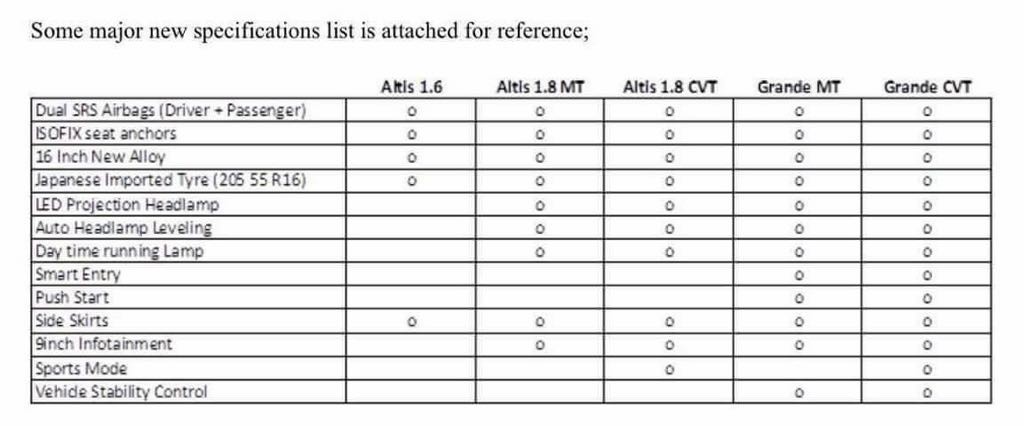 Conclusion
There is more in –depth review on its way for the new variants and their specs, so stay tuned PakWheelers!