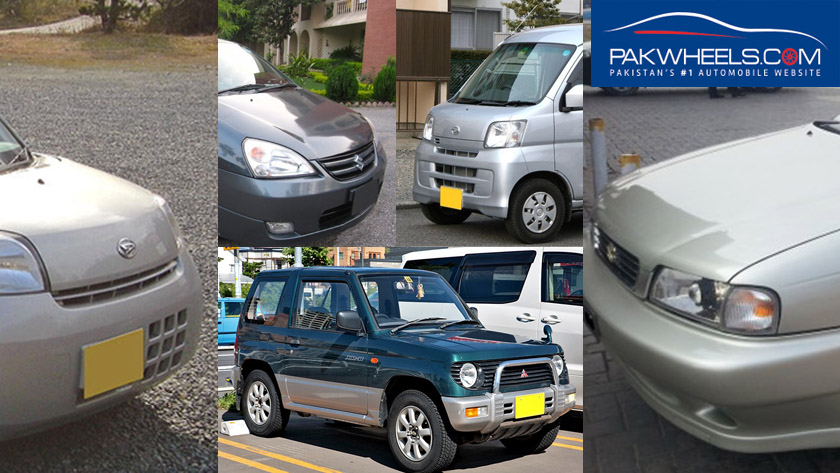 5 cars under 7 lakh on PakWheels.com
We here at PakWheels are continuously working to provide users with information on buying used cars or what car to buy. Yes, new things are new, and nothing can match the blessing a new car for any motor enthusiast. However, sticking with your old car or buying a used one can be a better option sometimes as cars have gotten a lot more expensive around the world and maintenance cost isn't cheap either. Just put on some new seat covers, clean out the interior and some new tires can actually make a great difference. With that said let's see what used cars you can actually go out and buy for a relatively modest budget in Pakistan.
Here is my list of 5 cars in 7 lakh!
When released back in 2005 Daihatsu Esse was the cheapest car available in Japan. It was Toyota's answer to the all-time best Suzuki Alto, and the car was quite successful in the Japanese market due to its different than normal exterior design. Later on, most of these cars were exported to countries around the world and couple of units did end up in Pakistan. Esse comes in many variants which include ECO, D, L and X with only one engine option; a 660cc l3 petrol engine mated to an automated transmission. Since they were built as cheap cars, so they don't exactly come feature packed. More expensive models do get a lot. At the time of writing this article, there were 7 Esse cars up for sale on PakWheels used car section under 7 lakh.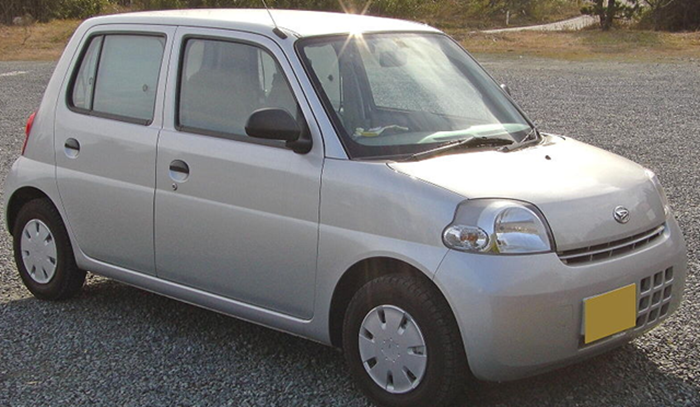 Pakistani's are well aware of the highly popular Pajero Mini from Mitsubishi. These mini-SUV's were highly popular back in the day, and they were small yet powerful machines due to their turbocharged 660cc engines. Their exterior and interior was similar to the successful Pajero SUV but shrunk in dimensions as the name rightly suggests. Pajero Mini is available in a number of variants, the ones available in Pakistan include VR, XR, ZR and Limited. To make things simple VR and Limited variants are the two most common ones you can get, and there isn't much difference between both cars. Limited edition mainly comes with extra chrome add-ons throughout the body to make it look a little more premium. At the time of writing, there were multiple Pajero Mini's available for sale under 7 lakh. Average asking price for a 2007-2008 Pajero in good condition is 6.5 lakh.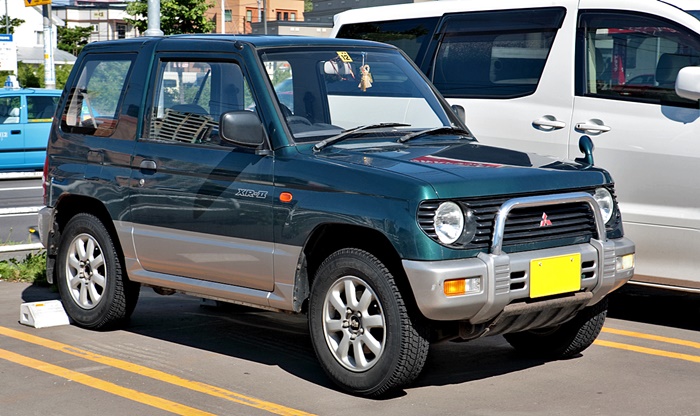 Daihatsu Hijet and similar microvans are selling in good numbers in Pakistan, and the reason isn't too surprising. People with big families love these cars as they have enough seats, decent air conditioning and features which you don't get in locally made Suzuki Bolan. Also, the part that Hijet is a fairly modern looking microvan and actually has some pretty good road grip at high speeds despite the fact it designed for carrying stuff and people over rather than high speeds. Hijet comes in Deluxe, Cruise and Turbo Crusie variants. Unlike the Turbo Cruise, both Deluxe and Cruise come with a N/A 660cc engine while the Turbo Cruise is a turbocharged 660cc which has better performance over the regular version however if you consider the price you will only be able to buy the N/A version. There are hundreds of Hijets available for sale on Pakwheels used car section. A 2007-2009 model will cost you anywhere between 6.5-7 lakh rupees for the base model. Spare parts also aren't a problem due to thousands and thousands of units being already imported to Pakistan since 2013.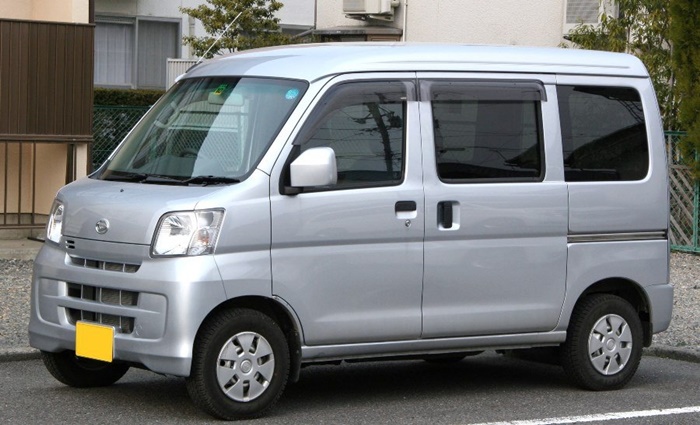 Personally my favourite car of the bunch despite being a huge failure during its production in Pakistan. But now the prices have dropped significantly, and people looking for budget sedans should really buy this one. Known as the Suzuki Aerio in other markets Liana was the direct competitor to the Honda City and Corolla Gli/Xli. It had a 1300cc(1330cc for later models) and a 1600cc with both manual or automatic transmission. Suzuki Pakistan also offered Liana in a number of variants including RXi, LXi, Eminent and Sports edition. You can easily buy a Liana RXi/LXi today for as low as 5 lakh which has power steering, power windows and ABS too. Which I believe is a great deal for this kind of budget. However, if you are looking for a decent model, then you might have to spend 6.5-7 lakh rupees and get the Liana Eminent. Do keep in mind of these units have factory fitted CNG kit and removing it might be a hassle.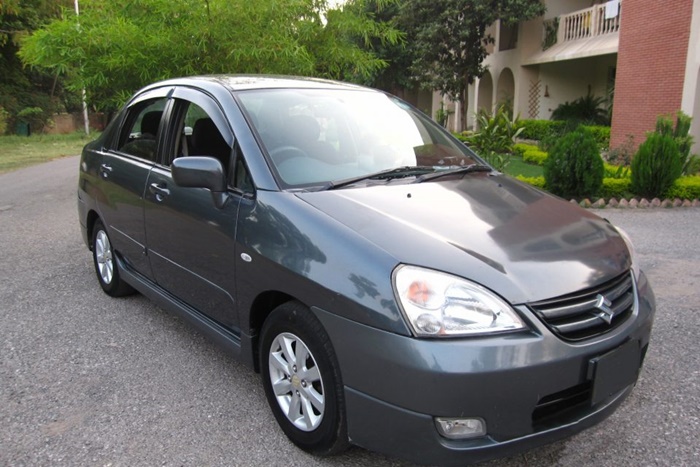 Fun Fact: Suzuki Liana was used as a track car in the famous BBC Top Gear where celebrity guests drove the car around a track and set a lap time. It was the part of Top Gear's reasonably priced car segment.
Suzuki Baleno was the second sedan offered by Pak Suzuki after Margalla and was succeeded by Liana. However, it had a better exterior and lowered body style gave it a very sleek profile unlike most cars of the time. It was considered as the sedan version of the highly successful Cultus 1st generation. It did quite well in terms of sales but not so good when compared to Corolla as expected. Many Balenos' sold are still running on roads today, and hundreds of the units are up for grab on PakWheels used car section. Since it's from the early 2000's so none of these units comes with power steering, ABS or even power windows. But that is surely forgivable when you have to pay under 6 lakh for a Baleno. Before buying one you just need to know that most Balenos came with a 1300cc (GXR, GL, GLI, JXR) engine. However, there was also a rare 1600cc GTi variant with more power which also comes under 6 lakh. I consider it to be a good value for money since you won't get many 1600cc or even 1500cc cars at that price.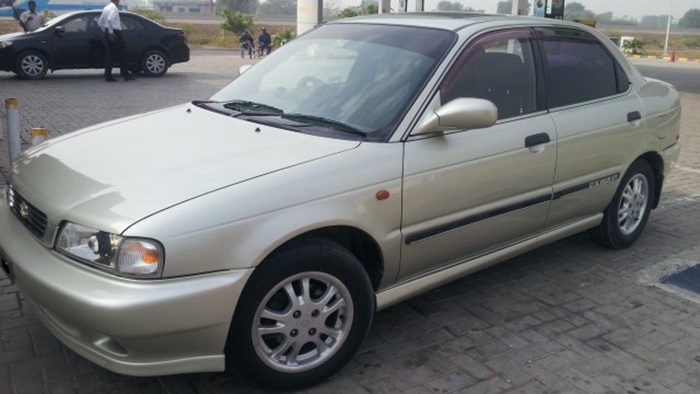 Personally, if I were to buy a car in the given price segment, then I'll definitely buy a Suzuki Liana. Spend some money on it later on things such as new seat covers, wheels or even some exterior paint correction which is exactly what one of my friends did, and he is quite happy with his choice. Since cars have gotten so expensive, so choice like this makes sense.