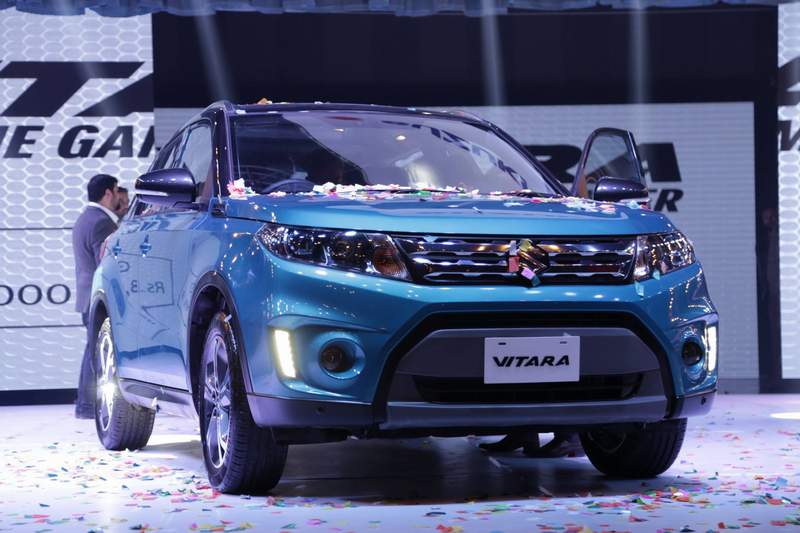 5 Differences Between Suzuki Vitara GL+ and GLX
The last few weeks have been filled with the news of Toyota's Revo + Fortuner and ultimately Suzuki's Vitara launch. Well, this is my attempt to participate in that tally with an article, aimed to shed some light on the differences between the two trims of Suzuki Vitara. As many of you might know that Pak-Suzuki has priced Vitara's both models differently. In fact,
GL+ (Priced @ PKR 3.49 Million)
GLX (Priced @ PKR 3.79 Million)
So, the question now is, How is the difference of PKR 300,000 justified in terms of features? While the dimensions, cabin space, boot space and engine displacement are same, there are some places, where GLX takes the superiority. Following is a list of features (category-wise), which set apart both these trims and will answer the above mentioned question.
Exterior – Let's start off with the most apparent category of this list. As mentioned earlier, the physical and interior specifications (in terms of dimensions and some generalized equipment) are identical across both trims of Suzuki Vitara. However:
GL+ comes with painted alloy wheels as opposed to GLXs' painted and polished alloys.
GLX features a panoramic sunroof, while GL+ doesn't.
GL+ comes with black and GLX with silver roof rails.
GL+ features a grey, fender garnish. Likewise, GLX comes with chrome, fender garnish.
GL+ is equipped with a colored front grille. GLX, however, features a chrome front grille.
Visibility – Now's the turn for second category of this list, the visibility aids.
Headlamps – This might come as a shocker to many readers, Vitara GL+ comes with simple halogen multi-reflectors for both low & high beam. Suzuki Vitara GLX, however comes with Halogen multi-reflectors for high beams and LED projectors for low beams. Additionally, GLX also features automatic headlamp leveling device and automatic lamps as a standard.
Automatic Wiper – This feature of an automatic wiper, which is programmed to detect rain and start operating, alter the speed of wiper blades to maintain a clear view of the road ahead for the driver is only fitted in the GLX trim.
Day/Night Rear-view Mirror – Thankfully both trims of Suzuki Vitara comes with this equipment. However, GLX features a automatic dimming rear-view mirror, while GL+ comes with a manually adjustable rear-view mirror.
Driving Amenities – Alright, now we enter in the realm of useful and handy features.
Key-less Push Start – This is one of the most desired feature in any vehicle these days. What I don't understand is its absence in GL+, which I might add is a PKR 3.49 million worth vehicle. Although, GLX is fitted with this amenity, I still believe Pak-Suzuki could have offered this feature as a standard across both trims of Suzuki Vitara.
Tweeter – I am afraid GL+ does not have any tweeters in it, which means the overall sound system all comes down to 4 speakers, fitted in the doors.
Interior – Next up, on this list are the features of interior.
Cabin Lights – Since GLX comes with a sunroof, it has 3-position front map light; as opposed to the conventional 2-position in GL+.
Overhead Console – This feature is also directly linked with the sunroof. Since GLX comes with it, thus, it also features this handy amenity for sunglasses storage.
Door Trim – GL+ comes with fabric extending over its door trim and GLX features suede instead of fabric.
Seats – In terms of this feature, GLX offers height adjustment for passengers and suede covered seats to its potential consumers. With fabric upholstery and a lack of seat adjustment for passenger, GL+ offers a more simplistic option.
Safety and Security – And last but not the least, we finally have a look at what's differentiating both variants of Suzuki Vitara from each other in this category.
Parking Sensors – You might have guessed where I am going with this, if not, then predictably GLX is packing parking sensors at both of its front and rear. Whereas, GL+ only has parking sensors on its tail-end.
Day time Running Lights – aka DRL's (LED) only come with the GLX variant of Suzuki Vitara.
And that's it. Hopefully, these features will highlight what are the most not-so-visible features, which differentiate both these variants from each other. Last but not the least, is the price difference between both these two justified? I personally think yes (if we are considering our matrix to be influenced by number of features.) Additionally, I also believe that some of the most desirable features like parking sensors and LED projection lights should have been offered as standard equipment across both trims of Suzuki Vitara.
Do let me know what you think of this little excursion on my part.