Today, we are going to take a look at Road Prince Wego 150, a bike that has become quite popular across Pakistan in a very short time-span; the reason being its sporty looks, powerful engine and a (somewhat) approachable price tag of PKR 180,000.
The bikes in Pakistan can be divided into three categories:
Under 150 cc
150 cc
Above 150 cc
The third category comprises of imported bikes and thus spans over a very selective consumer base. However, the broad majority of Pakistani consumers prefer to buy simple, rugged and tested bikes in the local conditions and thus the under 150 cc category is the most famous in the country. Granted, the 150 cc category is getting its fair share of consumers, as obvious by the high concentration of youth population in Pakistan. Despite the growing trend and consumption towards a bike with larger displacement engine, the local bike manufacturers have not taken any noteworthy initiative to probe this market. As it stands, there is only one bike in 150 cc category from the mainstream bike manufacturer in the country.
For Sale on Pakwheels: Motorcycle
Here is my take on the new entrant in the 150 cc category in Pakistan – RP Wego 150.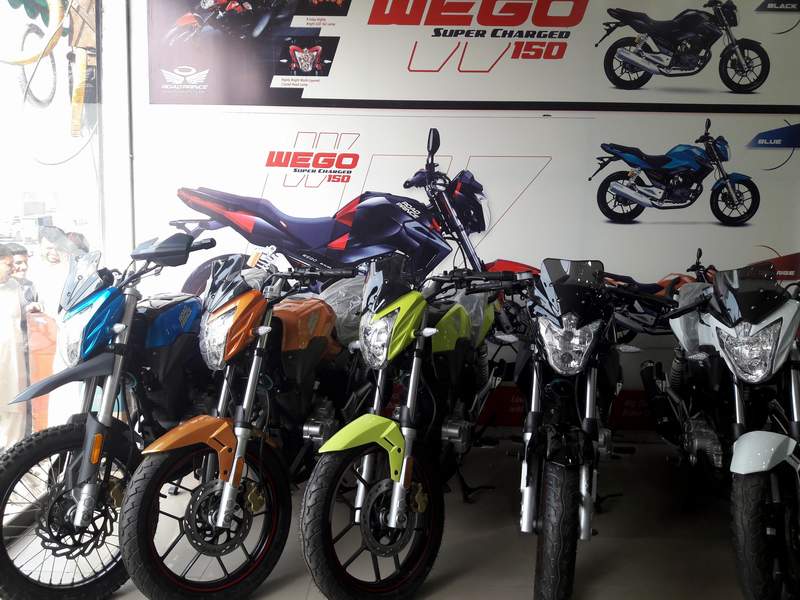 Since Suzuki GS-150 is the only bike in 150 cc category in Pakistan, it will have to suffice as the benchmark for performance and visual aesthetics. And as evident by the singular presence of GS-150 in its category, it has enjoyed the benefits of a reasonable fan-base and consistent sales over the years. GS-150 has a more mature look as opposed to Road Prince Wego 150's contemporary and sporty looks.
First up, Style check:
The Wego is, in essence, a Derbi 150 designed by Piaggio, which has been rebadged as the Road Prince Wego 150. The bike's design is drastically different to the conservative and somewhat easy-on-the eyes aesthetics of Suzuki GS-150. Wego offers a new and sporty looking stylus. It features a trapezoidal headlight and sculpted fuel tank, which compliments the naked style of the bike quite well. The tail unit is a simple affair and goes well with the overall design, while it features an 'old-school' exhaust muffler with segregated heat shields. Paint quality on the motorcycle along with build quality looks quite impressive, but a couple of wires exiting below the headlight are an eyesore. Switchgear quality looks built to last, and it gets a handlebar-mounted choke. Additionally, the bike is also fitted with an independent rear-wheel safety fender.
Features:
Let's break down the features, we start off with two independent bulbs in its headlight housing aimed to operate on low and high beam, which I might add is first in the bikes of this category. The highlight, however, comes in the form of an electrical luminescent needle dashboard. The dashboard offers an analogue rev-meter, digital speedometer and indicators for fuel, trip-meter, headlight, neutral, turn-signal and gear status. Surprisingly the company has fitted a milometer in the dash to show the estimated range according to your driving style and leftover fuel.
On the tail side, the bike features a 9-inlay bright LED tail lamp, which is very distinguishable in low visibility conditions.
Next Up! Performance:
The bike features Euro-III, 149 cc, 4 Stroke-Single Cylinder, air-cooled engine with two valves and a single overhead cam. It boasts a 18L fuel tank. Enough with the technicalities, let me put it this way, due to less weight, the bike's acceleration is noticeably faster than GS150. The company claims that this bike can achieve 0-60 KMPH in 4-5 Seconds, which I wasn't able to verify due to congested traffic in the city. However, I will admit that the acceleration and gear changes are seamless. Considering the short space of testing, the bike felt vibe-free till 70 KMPH. Furthermore, low-end torque spread is also nice as the bike rolled on from 25kmph in fifth gear without any knocking. The upshifting 5-speed gearbox offered crisp gear shifts. More importantly, the real difference which sets this bike apart is its multi-plate wet clutch, it offers smooth up and down shifts -and a complete absence of any jerk while changing gears- in low-high speeds. With respect to mileage, the company claims that the bike can achieve 38-42 KMPL in real world conditions, but it is a matter which requires a comprehensive road test.
First Ride:
The bike offers a low center-of-gravity, with the aid of a tall fuel tank and lowered handle bars than we are accustomed to the bikes in Pakistan, Wego offers a much more aggressive and hunkered down riding style. The seat is aptly cushioned, and the tank is also is also easy to hold with your thighs. The ride, however, is a little stiff as compared to GS 150, partly because Wego is mainly aimed towards a younger audience and partly to maintain its performance on high speeds. Direction changes are effortless and very responsive. To keep up with the overall sportiness of the bike, the stock tyres are a little thicker in terms of width – an increased rolling resistance, which can be an issue if you are trying to save fuel. The new Wego 150 comes with disc brake at front and drum brakes at the rear. The disc brake provides good bite and feedback through the lever.
Verdict:
I will admit that Road Prince Wego is a good option for a buyer who is tired of the mature-styled GS150. In my short experience with this bike, I would like to say that its engine offers decent punch for a high-speed run and the flick-able nature is a boon in traffic. The short and dipped seat offers an aggressive riding style but won't impress your lady passenger. Though the claimed mileage of 38-42 KMPL is fascinating for a 150cc motorcycle. But the decisive factors to buy this bike will be:
Sporty & Stylish Looks
Fuel Mileage
Engine Performance
Build Quality
And following are some of this bike's shortcomings:
Price Bracket
Less than favourable side pose seating space
Expensive maintenance
Nonetheless, all the credit goes to Road Prince for introducing this bike into a relatively unexplored market. Furthermore, the arduous testing of this bike on Pakistani streets will reveal how it fares with our local conditions; but for now Wego's future seems bright in a country with emerging youth and economy.