Toyota Indus has launched Hilux Revo in eight different variants, with the following choices
4×4
4×2
Single Cabin
Double Cabin
Automatic/Manual Transmission
All these trims feature the all-new 3.0L 1KD diesel engine. This review, however is performed on the Toyota Hilux 'V' variant, this particular variant is top-of-the line trim. However, since this is a test unit, it could be slightly different from the unit available in the market. So without further ado, let's have a look at what it has to offer.
Exterior:
From the surface, the new Hilux Revo looks completely different from its predecessor. This new model is based on the 'Keen Design', which is common in almost all of the Toyota variants in Pakistan. Toyota has successfully managed to imprint a more muscular look with its new design aesthetics of 'keen look'. This model also features a bigger and wider tail end as compared to the previous Hilux Vigo.
Also Checkout: Used Revo Cars in Pakistan
This new version of Hilux features projection lamps with day running LED lights for better road visibility. The company has also fitted Hilux insignia in these lights and coupled with auto on & off function for headlights and fog lights, Toyota Indus is finally equipping these much needed features in this latest iteration of Hilux Revo.
The vehicle's intercooler ducts designed and placed in its bonnet help to present a very pronounced look to Revo's front. Apart from these features, Revo comes with newly designed 18′ alloy wheels instead of 17′ wheels, which were previously fitted in the Hilux Vigo line-up.
Interior:
The new Hilux Revo is a major upgrade from Vigo in terms of performance, aesthetics and most importantly interior quality, design and build. Sitting inside the cabin doesn't feel outlandish or cheap, neither does it feel of bespoke finishing. But still, the latest interior is a major upgrade as compared to previous generations' of Hilux. The center console is made up of plastic, faux and some elements of original leather. The steering wheel is covered with leather.
Revo's information cluster features a 4.2′ TFT info display, which apart from displaying on-board travel info, also controls different functions of the vehicle. Toyota Indus has also fitted Revo with a multimedia steering, which means controlling the audio/video and on-board computer is much more elegant and simpler. Apart from this, Bluetooth and telephone connectivity can also be controlled via voice command button, which is placed on the steering wheel. Since this is top-of-the line variant of Hilux Revo, it is also fitted with cruise control, its controller is specifically placed on the steering wheel.
Furthermore, unlike conventional 4×4's, this vehicle features an electronically controlled high and low range switch, which is included in Toyota's higher end 4×4's like Land cruiser etc. Moreover, Revo features a digital climate control, which performs optimally in Pakistan's warm climate. Although there are no AC vents for the rear passengers, but AC's performance is quite noticeable in the cabin space. A digital clock has also been featured in between the AC vents on center console.
The vehicle features a 7″ TFT display with reverse camera, USB, Bluetooth and AUX connectivity factory installed six speakers, to provide ample amount of sound. Apart from theses, this vehicle also features front mounted camera for parking assistance. Likewise, the vehicle is fitted with reading lights, with a compartment for sunglasses. A 12V output socket and differential lock switch are placed on the center console. Revo features an electronically controlled driver seat, while all the other seats have been covered with bronze toned leather. It's front centered armrest features a 220W electric socket, which can be used to charge any handheld device.
Toyota Revo features a 5-Speed automatic transmission with sequential gear knob. The vehicle has been fitted with cup holders in front center console, front passenger side and rear arm rest. In addition to the above mentioned features, the vehicle also includes a glove box in the dashboard. There is also a cool box in the new Hilux Revo, which was previously included in company's flagship SUV's. In terms of leg room, the vehicle is not very comfortable in the rear passenger seat, partly because of the vehicle's design constrains and partly because of the seating position. But nonetheless, Revo offers an ample amount of headroom and good quality leather seats.
Safety & Performance:
The first thing anyone would notice while sitting inside the new Hilux Revo, it would be the lack of wind and engine noise. Compared with the old Vigo, this new vehicle does not have any rattling or knocking noises in its engine or cabin. Revo performs optimally in different terrains and conditions. In terms of safety, this vehicle features three airbags, one in the steering wheel, one for the knee protection for driver and one for the front passenger. Likewise, Revo features ABS and EBD (Electronic Break Distribution), which means that each tyre is equipped with a sensor that applies required amount of brake to minimize the stopping distance.
Conclusion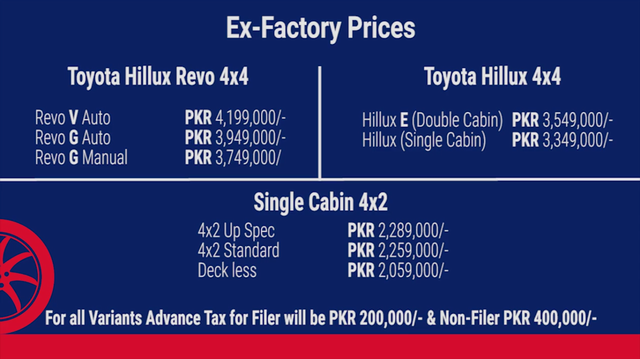 In the local market, if a Pakistani ever wanted to buy a decent 4×4 in the budget of 4 million, then they had the choice of opting for a 10-year old Toyota Prado or any of its old equivalent. On top of that, Toyota Revo (imported) is available at PKR 6 to 6.5 million price range in the local market. But the credit is due to Toyota Indus for doing market research and launching this vehicle in appropriate price brackets. With the optimal 4×4 capabilities and the newly improved engine, this vehicle is a good option for rally drivers. Since many years, Toyota Hilux is the undisputed king in the local 4×4 market. This reign is all credited towards a lack of sufficient competition, nonetheless this new variant comes with much needed improvements in design, interior, suspension and off-road performance as compared to the old Hilux Vigo and it can be called the 'King' of Pakistani market.