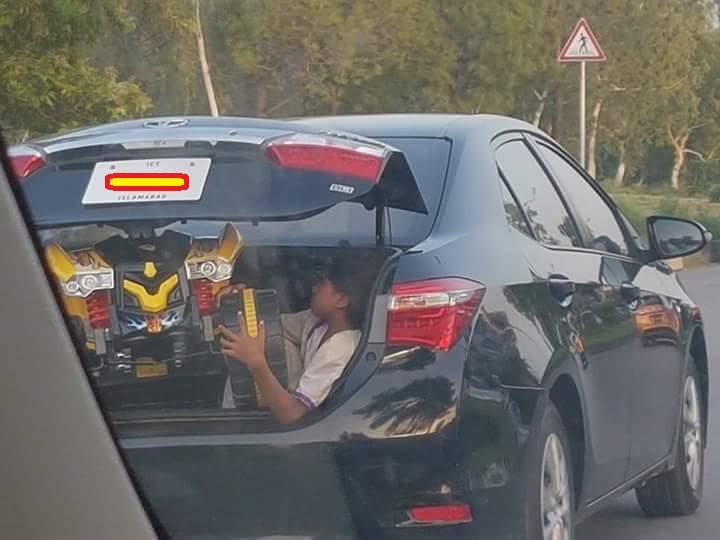 While on the road, each and every one of us has a responsibility, be that in the role of a driver, a passenger, a biker, a cyclist or even a pedestrian. To be honest and I am sure that all of you will agree that road safety is not something, we (Pakistanis) as a nation are very concerned about. We at PakWheels.com started a campaign in the form of a thread to reflect the unsafe behaviors on the roads, as each day, we come across many different pictures showing irresponsible behavior of public on our roads.
You may have a look at above mentioned Pakwheels Campaign here >  Unsafe drivers, bikers & pedestrians spotting thread
Among all, today I will only discuss about the importance of child safety in our vehicles. Time and again on social media, I come across people sharing pictures of Kids being transported in a car's trunk. It's extremely disappointing to see that parents, guardians or whoever is the driver of the car, let this thing happen. They don't realize that they are endangering the lives of their kids. I asked one such driver on social media, when a picture of his car with kid in the trunk went viral, and to my surprise, he said, "Aapko Kya Takleef Hai, Gari Main Jagah Nahi thi Toh Main Kya Karta?" If I agree to his answer, then everyone can violate any rules of the road and a cop has no reason to stop anyone. Hauling kids in the trunk is not only dangerous but it's also illegal. Not only trunk, but even standing and looking out of sunroof, which is another, very common trend in our country, is strictly illegal and extremely unsafe. A Vehicle code as in United States, says "No person shall ride on any vehicle upon any portion thereof not designed or intended for the use of passengers". This means that the car's trunk, pickup truck bed, SUV rear compartment and sunroof are not designated for transporting any passenger, let alone the kids.
For kids sitting in the trunk or standing and looking out of sunroof, while a car is in motion, might be an enjoyable activity, but its safety hazard. In case of rear ending accident, the kids in the trunk can have a serious trauma injury or they can fell off from moving vehicle and fall in front of a following vehicle. Even an abrupt or hard maneuver by the driver of the car can result in a serious injury to kids standing in the sunroof or sitting in the trunk. Being the driver of any vehicle, it's your responsibility to safely transport passenger, that's why if a passenger is not wearing a seat belt a driver is summoned and ticketed. I can't even imagine how, even being a parent, someone can act so irresponsibly? Have a look at a picture in which, a small baby is sitting in the stroller and that stroller is placed in the back of a pickup truck. Multiple kids sitting in back of an open hatchback station wagon is a common practice and no law enforcement agency even bothers to stop and question their action. Please remember, for kids and toddlers, rear seats with a proper restrained system is the best and safe practice.
Another common irresponsible behavior is infants in the lap of their moms in front seats. It's such a big infraction overseas that you can be called to court and your child taken away by child protection agency. In case of any unfortunate event as an accident, one can lose their child forever. Please use proper child seat for the transportation. Studies have shown that proper seats have reduced the death of children in car crashes by 71% for infants and 54% for kids between ages of 1 to 4, while percentage is around 59% for children between ages of 4 to 7. Internationally, the laws are so strict that till the age of 13, it's not legal to sit in front seat, while even in back seat till age of 13 the rear seat belt is mandatory. Even it's illegal to transport a pet in the trunk, forget about the children.
Child seats are now available in the local market and one must invest in proper seat for the life and safety of our kids in our cars. If we can spend thousands on food or on buying smartphones, then why not a few thousand rupees on a proper child seat? Many child deaths and serious injuries can be prevented in car crashes if we follow the rules. From birth till 2 years, the rear-facing seat should be used. Back in 2007 when my son was born in New York, the hospital didn't allow me to take my son home until I got my car inspected by the social service, making sure I have a proper seat installed in the car. Between ages 2 to 5 [baby weight around 40 lbs], a forward-facing seat is required. From ages 5 to 8 or till the height of 4 feel 9 inches, a booster seat is a must. After the age of 8 onward [minimum height of 4 feet 9 inches] a child can be restrained in car's own seat belt.  Please choose the right seat for proper and safe protection. Internet is full of resources and information related to proper car seats, their installation and use.
I strongly recommend that our law enforcement, National Highway & Motorway Police should fine heavily anyone who is not transporting kids in a proper way. The city traffic police should summon anyone who is hauling kids in the trunk of the car or has kids standing in sunroofs. Any vehicle with children, not in proper seats must not be allowed to enter Motorways. Law enforcement agencies and Government should start educating people about this important issue by running media campaigns and by distributing leaflets. As responsible citizens, we should not indulge in any such activity and if we see anyone, we should immediately report to the nearby by police officer. Do we want to realize and understand the importance of this fact only after having an unfortunate event? For the love and safety of your children, please think twice before putting kids in the trunk, no matter the kid is your own or an unfortunate one working in your home as a servant/maid.
Follow PakWheels.com Forum with more resources on this topic here>Importance Of Child Passenger Safety