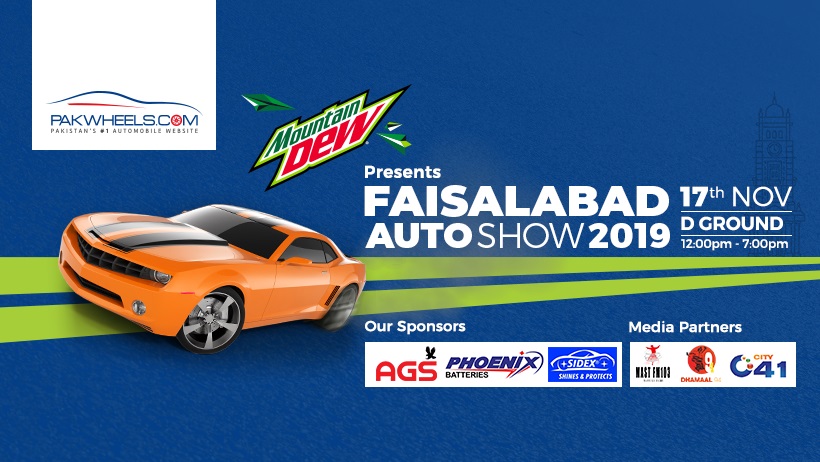 5th Faisalabad PakWheels Auto Show 2019 ends with all its glory and thrill!
The Auto Shows being one of a kind initiatives by PakWheels.com, are aimed at providing a unified platform for car enthusiasts to share the mutual passion for cars from all over Pakistan.
Started back in 2011, these Auto Shows have become a trend among the automotive community nationwide. From exotics to tuners, to 4x4s and classics, there comes a variety of cars.
Yes, it was that time of the year again. Time for Pakwheels Auto Show in Faisalabad. The previous car shows in Faisalabad have been quite a success, however, this year the Faisalabad Auto Show broke the previous year's record as thousands of people throng the event. Not only people came in a large number, but vehicles displayed at the event were also greater in number compared to the previous year.
Who else understands Faisalabad's love of cars better than PakWheels. Makes it the perfect reason to hold the auto show in 2019, like every other year, at the D- Ground. This time around, the auto show was held on the 17th of November from 11:am onwards.
Note here that Last year, in 2018, 35,000 visitors came to the event and made it a huge success. Similarly, this year too, over 45,000 people came and witnessed the auto show. There were thousands of visitors, out of which, some of them were there to showcase their cars and others to enjoy the fun-filled day with their families and friends. Yes, you read that right! The event was a mix of cars, bikes, food, and music.
It is imperative to mention here that this was the 5th auto show in Faisalabad.
The auto show featured six main categories of vehicles including vintage, exotic, luxury, modified, 4×4 and bikes. Name a particular brand, and it was present at the event. If you are a car or a motorcycle lover, the event didn't disappoint anyone in any manner whatsoever.
Our sponsors and media partners for this amazing event were Mountain Dew, AGS, Sidex, Phoenix, City 41, Mast FM 103, and Dhamal FM 94.