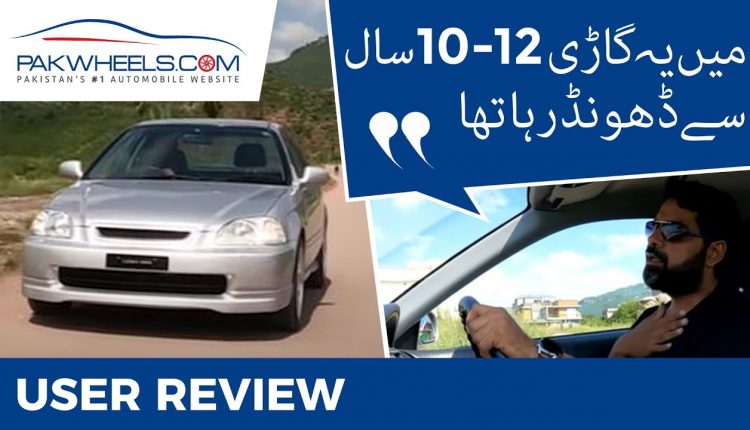 "A Bone Stock Civic EK3 Hatchback" – Owner's Review
Today, we present an owner's review of the Honda Civic EK3 Hatchback 1996. This is the 6th generation civic, with a 1.5 liter 3 stage VTEC engine producing 113hp and 138Nm of torque. This particular car has an automatic transmission with 3 driving modes. This is the top-of-the-line variant and Japanese domestic model.
Purchase Decision
The owner had been looking for this car for many years, so he immediately bought it without extensive negotiation when he saw it on sale. EK hatchbacks are very rare in bone stock condition; the owner paid Rs. 2 million for this car as it was in immaculate condition and very well kept.
Salient Features
The Civic EK3 has all the basic features like power steering, power windows, central locking, etc. One feature that the owner really enjoys is the 3 driving modes, eco, normal, and sport. ABS brakes and traction control have also been offered, but this car does not have those features which the owner really misses.
Fuel Average
The owner gets a fuel average of 10 km/l within the city and 11-12km/l on the highway, which is not bad for an automatic transmission car of this age.
Storage
As per the owner, storage spaces are very good, the boot is decent sized, and the rear seats also fold down, enhancing the space. The Interior has many compartments with a decent-sized glovebox and spaces indoors too. The owner has traveled conveniently in this car with his bike parts.
Handling
After the exterior looks, the owner's favourite thing about the car is its road grip and handling. According to him, the vehicle stays extremely stable at high speeds, and cornering is also very safe and fun. This car has the same chassis as the EK9 Type R, so the handling is very impressive.
Maintenance and Spare Parts
The owner imported mechanical parts from Japan as the car needed some maintenance which cost him Rs. 5 lac, after that, the car was as good as new. Except for oil and filters, there is no additional maintenance required. Spare parts are readily available in local markets at nominal prices, but some imported parts are relatively expensive.
Resale
The Civic Ek Hatch is not readily available in the market, so resale is purely dependent on condition and the owner's demand. This particular car gets offers on a daily basis as it is in pristine condition, but the owner has no plan to sell his car any time soon. However, he thinks that it can sell for more than what he bought, as many enthusiasts are willing to buy his car.
Watch Video