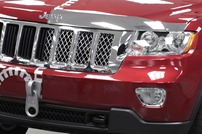 A Jeep Grand Cherokee with two faces
What will they be calling Jeep Grand Cherokee at the 2012 SEMA? Two face, Jeep two face.
This Jeep Grand Cherokee is named Half & Half and is one of two dozen Mopar cars and crossovers which are destined to be exhibited during the 2012 SEMA show in Las Vegas beginning at the end of the October, 2012.
Half & Half is part of a study initiated by the Jeep's parent company. 'Chrysler Group', to demonstrate the before and after effects of a Mopar-style makeover on the same vehicle, which in this case, is a 2013 Jeep Grand Cherokee Laredo finished in a 'Deep Cherry Pearl Coat' paint.
Jeep completely split the vehicle into two halves and put a zipper graphic on the center to signify the two faces of the Jeep. One part was completely pimped out by Mopar, Chrysler performance division while the the other remained stock.
The added bling on the left (driver's) side looks everything gaudy but performance oriented and it isn't no surprise that the right side looks better.