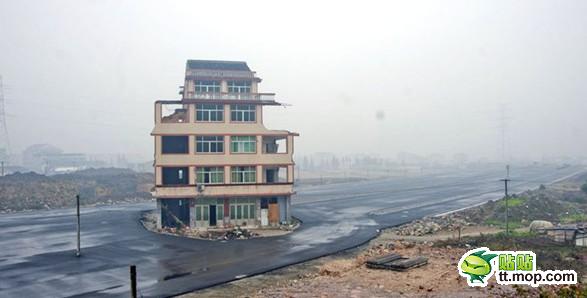 A lone house stands in the middle of the road in China
In Pakistan, you don't have to search for poles erected in the middle of the roads as the local electric supply and telephone companies were too lazy to remove their poles when the new roads began to be paved in different neighborhoods however, it may be impossible to find a house left standing in the middle of quite a wide road.
Make no mistake, this photo is not a creation of the CGI or photoshop. This house is actually standing – alone – in the middle of the road in the great city of Wenlin in Zhejiang Province of China.
The story behind it is quite simple, everyone sold their houses to the people who were building the road, everyone except the owner of this house who presumably, didn't agree to the price he was being paid for the house.
The developer thus then built the roads around the house no matter.
Chinese websites report that this kind of scuffle between house owners and developers aren't unusual. Developers often raise their offered price or hire few goons to beat the owner out of their homes but in this case, none of it worked and the house is now called 'nail house', which roughly refers to the last nail of an old box that for some reason refuses to get out.