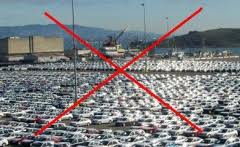 Age limit of imported cars reduced from 5 to 3 years
Economic Coordination Committee of the Cabinet (ECC) has made the decision to reduce the age limit of imported used cars from five to three years to give relief to the local auto assemblers.
The new age limit will come into effect from the December 15, 2012.
Back in 2008, Government had reduced the age limit from five to three years for imported cars which brought the share of imported cars from 17 to 6 percent only until government in 2010, reversed the decision in light of the rising car prices and it's lack of control over local auto assemblers.
To add to the annoyance of buyers and dealers, the decision has once again been reversed and the age limit has once again been reduced.
All Pakistan Motor Dealers Association (APMDA) has protested and said that the decision was unfair as now, the prices of imported cars will rise making them unfeasible for buyers and also incurring a significant loss of upto 32 billion rupees to the national exchequer.
Pakistan Automotive Manufacturers Association (PAMA), which lobbied for the reduction in age of used car imports has welcomed the decision while it's chairman, said that the industry will uphold the 'customer comes first' philosophy in line with our vision.
We wonder then about the 'customer comes first' philosophy because there is only one car available in the price bracket of under one million Pakistani rupees.
No more choices for you except two cars now; Gli or Xli.