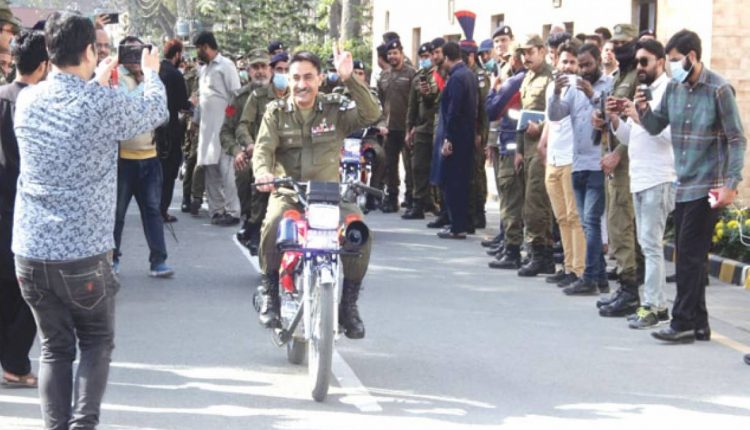 Lahore, say hello to your new saviors, the Ababeel Squad. This Saturday, the 27th of February, the police have launched another motorcycle patrolling force in Lahore. The new squad is a group of 40 armed police officers with 20 motorcycles, here to control street crime and make the city safe for everyone. 
The Ababeel Squad made its debut in a ceremony held at District Police Lines Qila Gujjar Singh. Capital City Police Officer (CCPO), Ghulam Mahmood Dogar, inaugurated the new police force by cutting the ribbon and riding the Ababeel motorcycle at the ceremony. DIG Investigations Shariq Jamal, DIG Operations Sajid Kiani, SSP CIA, SP Security, SP Mobile Squad, SP Headquarters, all divisional SSPs, members of the Ababeel Squad, and Anti-Riot Force (ARF) were a part of the inauguration.
CCPO Dogar addressed the ceremony and said that the police had raised the Ababeel Squad from its own resources. 40 policemen received special training to patrol Lahore streets and shut off crime in the hotspot areas of the city. He added that the squad would function under SP Mujahid Squad from Qurban Lines. 
Currently, there are three different police forces at work in Lahore. The Dolphin Squad, Police Response Unit, and Punjab Safe Cities Authority. The three units handle the crime scenes in the city but have not come up to the expectations. The Ababeel Squad will be a new addition to Lahore's armed forces and hopefully turn things around.
Ababeel Squad Will Save The Day! 
CCPO Ghulam Muhammad Dogar claimed that the Ababeel Squad would immediately respond and reach the crime affected areas in a group of 20 motorbikes. The squad will patrol the streets of Lahore, particularly the congested areas of the city. 
What are your thoughts on the new crime control squad in Lahore? Do you think this one will do a better job than the existing ones? Tell us in the comments, and don't forget to share your experiences with the Dolphin Squad. Be safe, everyone!