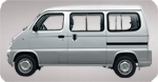 Al-Haj FAW Motors inaugrates its assembling plant in Karachi
It is a joint venture between FAW Motors of China and Al-Haj Motors who import heavy vehicles from China. Now, with the new assembly plant ready to get into action, the company is now targeting to launch new vehicles and passenger cars of 1,000-1,500cc engine capacity within the next few years.
Though the company has been assembling trucks since October 2011 here, and now plans to produce 6,000 trucks and 12,000 light vehicles every year but statistics suggests that the numbers are highly optimistic figures as HinoPak's capacity an year is 5,000 trucks and it has only been able to produce 1,237 trucks in 2011-12 due to the predicament economic situation while the highest ever has been 4,993 trucks in 2007-08 as per the data released by Pakistan Automotive Manufacturers Association (PAMA).
The plant which was inaugurated by Prime Minister Raja Pervez Ashraf, who on the occasion said that the government was ready to support experimental and innovative vehicles to make these affordable for the common man.
Moreover he added that the real success of this industry would be when the prices of vehicles would come down to the affordability of a common man.
So far only two vehicles are listed on the Al-Haj FAW Motors website, FAW Carrier and XP-V. Both of which are Chinese translation of Suzuki Ravi and Hi-Roof, respectively.