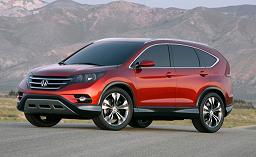 All-new 2012 Honda CR-V concept revealed
Honda offers a very short range of cars in Pakistan and none of them are in the range of masses. The range includes, Accord for PKR 5,949,000, Civic for 1,955,000, City for 1,480,000 and the CR-V for 5,549,000. They aren't what you call cheap or even mildly expensive because it isn't hard to judge whether or not these cars offer the kind of value-for-money we seem to have – just a few years back.
However, Honda is teasing and revealing all-new models of its cars for the year 2012 and yet again there is another unveiling, Honda has released concept photos of its CR-V which was a station wagon when the first model was revealed now though, it is a compact crossover SUV.
The new CR-V will hit the dealerships worldwide by the end of 2011 with a slight increase in power and efficiency. The 2.4-liter 4-cylinder petrol-burner will most likely be the mainstay for the US market, while the 2.2-liter i-DTEC diesel could make around 165 hp in Europe. The details are yet to be confirmed along the pricing but what we do know is that the entry-level version of the car will come with a front-wheel- drive, while an all-wheel-drive variant will also be available as an option.
Honda's primary competitors in the compact S.U.V. class, a sales segment dominated by the CR-V in the United States, include the Toyota RAV4 and the Volkswagen Tiguan, which received a cursory redesign for 2012. Also expected to join the category by next spring is the Mazda CX-5, inspired by the Minagi concept shown earlier this year in Geneva. The vehicle is expected to be among Mazda's first offerings equipped with the brand's SkyActiv suite of fuel-saving technologies.
"With a new design—both inside and out, new features and new possibilities, the 2012 CR-V will set a new standard for the class," Honda says on its official website. "As a top-selling crossover for over five years, expectations for the 2012 CR-V are high and we're confident they will not only be met, but exceeded. Much more will be revealed over the next several months so be sure to sign up on this page to receive updates," it continues.