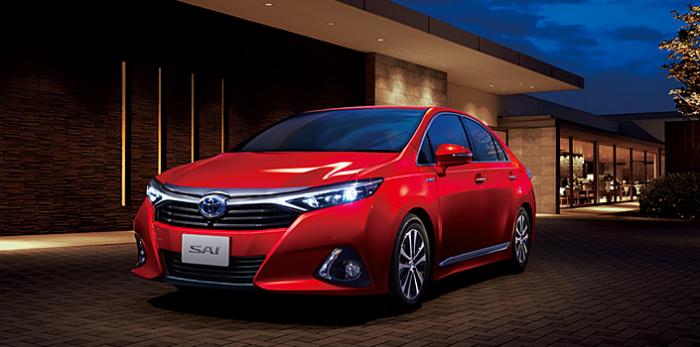 The Toyota Sai, many haven't heard of this name in the Toyota line-up before. Well, that is because it is only available for the JDM (Japanese domestic market).
It shares the same basic platform and hybrid drivetrain that the Lexus HS series uses. The Sai is powered by a 2.4L (2.362L) 2AZ-FXE engine, producing near 150HP and 137 Ib ft of torque @ 4,400 RPM coupled to a electric CVT gearbox pretty much the same overall set-up the Camry Hybrid has. This is the only engine and gearbox available for the Sai.
But boy oh boy does this thing have options! Leather interior, powered/heated seats, driver-side pre-set for the steering/seat and mirros, automatic rear shade, sunroof, display/command zone, multi-information display, LED illumination console, smart key system, bluetooth, rear a/c, Plasma cluster basically an air purifier iON system, auto-reverse tilting side-view mirrors, front (wide angle) and rear camera with guidance lines and voice guidance, remote touch (just like the i-Drive you get in the BMW's and Merc's). You name it and the Sai has got it. Has three different driving options to choose from (Sport, Eco and EV). Sport is used when you want that punch of power, Eco reduces that punch and gives you a better overall fuel economy, EV this is used when you just want to use the electric motor used for more 'relaxed' situations as Toyota recommends.
But wait! There is more. S-VSC, EBD with ABS and brake assist system, rear pre-crash safety system (to save occupants from severe neck injuries), radar/adaptive cruise control, lane keeping assist system, approaching vehicle reporting device, all LED lights, hill start assist control and the holy grail of them all the Pre-crash safety system (millimeter-wave radar) it determines if a crash is about to happen in front of the vehicle and takes over if any such situation occurs. All these options are optional according to the variant you buy optional variants are the G 'A' Package, G Package, S "C Package", S Package.
Four different interior combinations to choose from, including a new color named 'madder' a deep, purplish red. Toyota says, the interior is made to attract women in the 50's and their 60's. Katsushi Kanemaru, Toyota's 'color group' branch manager explains 'the colors are so feminine that only a women can drive it – men will also be able to look fashionable in it'. Alrighty, I think we shall move on.
Let's get down to the fuel economy and environmental specifications. 80% of the interior parts of the car are made up from Eco-Plastic which is environmently friendly, floor and floor parts are used from recycled materials which are three times more 'environmental friendly' than a conventional vehicle. Toyota says it gives 22.4/L (22 kilometers to the liter), 75% lower emission than the 2005 act for emission control.
Pricing is as follows, (for PKR conversion simply multiply the price mentioned in JPY with the current international exchange rate in PKR).
| Grade | Engine | Drive | Mission | Riding capacity | Manufacturer's suggested retail price * 1 |
| --- | --- | --- | --- | --- | --- |
| | 2.4L | 2WD | Electric continuously variable transmission | 5-seater | 4,210,000 yen (consumption tax 4,009,524 yen) |
| | 2.4L | 2WD | Electric continuously variable transmission | 5-seater | 3,820,000 yen (consumption tax 3,638,095 yen) |
| | 2.4L | 2WD | Electric continuously variable transmission | 5-seater | 3,310,000 yen (consumption tax 3,152,381 yen) |
| | 2.4L | 2WD | Electric continuously variable transmission | 5-seater | 3,210,000 yen (consumption tax 3,057,143 yen) |
(pricing source: www.Toyota.jp)