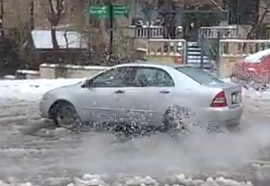 All-wheel-drive Corolla is a treat to watch
Toyota does not make AWD Corollas. Although in the past there were RWD Corollas but now, Toyota doesn't makes them anymore to reduce manufacturing costs, in fact most of the manufacturers make FWD for low priced cars.
The X Corolla as it is known here in Pakistan in this video has a 3SGTE engine swap from the olden Celicas which were offered in either 4WD or just FF depending on the position the engine was mounted.
Toyota had many many fun cars available throughout the world but now it doesn't, the FT-86 is an effort to redeem that image but Toyota does have small cool cars which are tailored made for specific countries.
Toyota has kept every country as a separate enterprise. I think the Etios (Offered in hatch and sedan trim) that was launched specifically for India was cheap, good looking and economical which could've done massively well in other countries too. Competing against the Polo, Punto, Swift Dzire etc etc in India – it got damn good reviews.