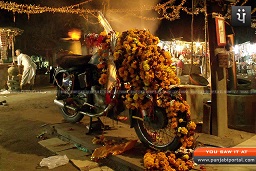 The shrine is a proper business in this part of the world, whether you're on this side of the border or the other. Many news outlets have often covered and broke loose the story about the business that takes a lot of decades to construct a following, which prays via or worship the shrine of the deceased due to the popular myths associated with it.
The shrine of Bullet Baba is near Chotila Village which close to the city of Jodhpur and is no exception, fueled by rumors and experienced by illiterate believers who had an already strong belief in ghosts and spirit strolling earth for some reason.
Bullet Baba was a keen rider who went twowheelsbad one day – hitting a tree and died. Police took his Royal Enfield 350cc bike into their custody but the other day, the bike wasn't there and was later found at the same tree which killed bullet baba a.k.a Om Singh.
But the police was not ready to accept it and thought it was a prank and took the motorcycle back to the station, bled it dry and tires chained but still, the bike had gone to stand under the same tree.
News broke loose fast and many people gathered and today, some worship Bullet Baba as a God as the shrine developed with many businesses of shops offering flowers, stickers etc etc so that travelers and tourist can pay their respect to him while some even put up bottle of liquor.
One of the most popular 'if you don't than…' from the myth is that one who does not stop to pray than they're in for a dangerous journey. Well whatever the case maybe, the villagers say that Bullet Baba often walks around and revs his bike in the nights.