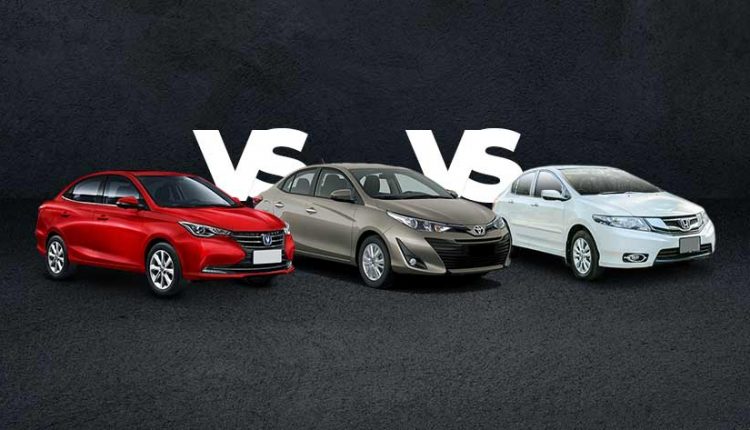 Alsvin Vs. Yaris Vs. City – Comparison of Manual Variants
In this article of car comparisons, we will compare the salient features of manual variants of Changan Alsvin, Toyota Yaris and Honda Civic. The article will focus on different options and specs of these three cars. Alsvin has recently made an entrance in the local market with a loud splash; meanwhile, Yaris is currently the top sedan seller, while Honda City is the oldest among these three. 
So, fasten your seatbelts and read this comparison among Changan Alsvin 1.37L Comfort MT, Toyota Yaris 1.3L GLi MT, and Honda City 1.3L MT. 
Engine and Transmission: 
Changan Alsvin has 1370cc engine, which generates 99hp and 135Nm torque. Meanwhile, the size of  Yaris' engine is 1329cc with 97.8hp and 123Nm torque, while Honda City has 1339cc engine, producing 98.6hp and 128Nm torque. The comparison shows that Alsvin' s engine is biggest, which produces most hp and torque. 
Meanwhile, all three sedans have 5-Speed Manual Transmission in them. 
Infotainment Screen: 
Alsvin comes with 7-inch infotainment screen, Yaris has Touch Audio System, while it is optional in Honda City. 
Safety:
Changan and Toyota's sedans have dual airbags, while City comes without them. Furthermore, all three vehicles have ABS+EBD system. So, Alsvin and Yaris are equal in this category, but City is relatively behind these two. 
Rear Camera & Parking Sensors: 
Changan's sedan has a clear edge in this segment as it comes with both Rear Camera and Parking Sensors. Meanwhile, Yaris and City  don't have either of these features, means it is difficult for the drivers to reverse or park these sedans. 
Traction Control & Hill Start Assist: 
Toyota's Yaris is the winner of this category as it has Traction Control as well as Hill Start Assist. Meanwhile, both Alsvin and City do not offer these features. It means Yaris is more stable on the road and easy to drive in the mountains. 
DRLs: 
Both Toyota and Honda have not offered DRLs in their respective sedans; however, Changan has installed them in its vehicle. 
Price: 
In this most crucial comparison, you will come to know that price of Alsvin is Rs2,199,000, while the current rate of Yaris is Rs2,509,000. Meanwhile, Honda City costs Rs2,449,000. So, it means the newest Alsvin is the cheapest sedan among the three.