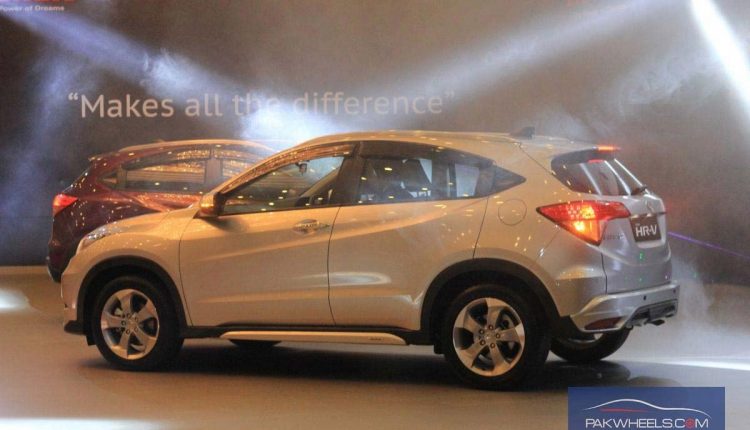 Is Honda HR-V Making a Comeback in Pakistan?
A WISHFUL THINKING ? but there is a  rumor and when there is smoke, there might be a fire, and the rumor is that Honda HR-V may make a comeback in Pakistan.
A couple of months ago, I posted my opinion about Honda CR-V and how it might have missed an opportunity to introduce it locally as a locally assembled vehicle.
For last year or so, the things are not going very good for Honda Atlas although they are still somewhat catching on their regular sales figures to some extent. The competition has gone fierce in the last 8 to 12 months. Honda Civic sales are eaten up by the introduction of crossovers in the shape of Sportage, Tucson and some newcomers like Glory and MG-HS. At the same time, an attractive pricing for the CBU and upcoming CKD Proton X70 has also given another option to buyers.
In the case of City, which has been in the market for over a decade with multiple "FACE-LIFTS "is not a happy camper either. The arrival of Yaris indeed has dented the sales figures. Overall inside the Honda Atlas camp, there would be definitely anxiety.
Launch of Honda HR-V in 2016: 
As per unofficial and unconfirmed reports, Honda Atlas is working on bringing something they introduced five years ago but failed to capture the market. Back then, it could not attract any customer. Honda Atlas introduced HR-V as CBU/ Imported united in January 2016 at a starting cost of Rs3.6million. Yes, a CBU and Rs3.6million and still the public were not very excited. Back then, Japanese imported cars were enjoying the market, and Honda Vezel, a Japanese domestic model was a very attractive buy in the Pakistani market in hybrid form. Outside Japan, Vezel is rebranded as HR-V with minor visual aesthetics.
Change in Market and HR-V: 
Fast forward to 2020/2021, the market is changed, and buyer preference as well. The craze for the Crossover Utility Vehicles / CUV and Sports Utility Vehicles/ SUV is increasing day by day. Every other manufacturer is bringing in their version of SUV or crossovers simply because there is a lot of demand. Globally conventional sedans sales have also hit in negative.
The new entrant in Pakistan took the opportunity and introduction of Sportage has shown the same trend in our market. Tucson will further solidify the fact that consumers in the Pakistan market also move towards this new segment previously unknown. Corolla and Civic's decline statistically verify that buyers are moving towards crossovers currently available in the market.
Honda HR-V Current Generation and Engine:
The current generation of HR-V is the second generation which arrived as Vezel In Japan in 2013 and in other markets as HR-V around 2015/16. The 2nd gen is almost near its end of life cycle, and newer 3rd generation is expected to make the public appearance sometime later this year in the international market. But the 2nd generation is still in production and will remain in production for around a year in the global market.
HR-V/VEZEL is based on Honda global compact platform and shares its underpinning with the GM series [ 5th/ 6th ] Honda City, Honda Fit / Jazz. It also shares its mechanical components with Honda BR-V. As per Honda model lineup, HR-V/ VEZEL sits below CR-V.
Honda HR-V is available with 1.5L NA engine as we see in the Honda City and the 1.8L engine as we have in Civic. It is also available in 1.5L Hybrid as we know in Vezel. Honda Atlas most probably will be bringing the 1.8L engine although there is a possibility of 1.5L as well. Expect a CVT transmission.
Other Expected Launch by Honda:
Before I go further, let's talk about another stuff, Honda City. There had been a lot of discussion about the upcoming Honda City and again no matter BMW introduce an X7 or Changan release an Alsvin or United release an Alpha Or MG reveal an HS, there is no denying everyone wants to know about the upcoming City even those who already bought a Toyota Yaris or booked Alsvin.
No matter how bad we talk about the current Honda City in Pakistan, we must know that, this is Honda City, who developed the compact sedan segment and we can call it the founder of the segment in Pakistan. It enjoyed winning the crown for a long time without any competition although currently enjoying a "SHARK-FUN-TEENA ".
So, the ongoing discussion is, if we will get a 6th generation GM6 Honda City or the newer 7th generation GN1 City.
Once you read my post about City, you may or may not agree with it, but I think Honda Atlas will bring a GM6/ 6th generation City and utilize the same underpinning and develop a second product in the form of HR-V. As I said, they share platforms and many mechanical components. This way, Honda Atlas will cut on huge cost and brining two products into the market. I personally think that Honda Atlas will place HR-V around the same price point as it did in 2016 and means Rs3.5million +/-.
Pricing Options for Honda: 
Honda Atlas will place the upcoming Honda City in an Rs3million +/- bracket depending upon variant. By doing this, Honda Atlas want to kill many birds with a single stone. Bringing a compact crossover at a Rs3.5million price point can attract Toyota customers who are in the market for Toyota Corolla, especially the 1.6L Altis.
HR-V can or will catch customers who are in the market for Hyundai Elantra which is also rumored to be priced around Rs3.5million +/-. And It can also compete against a possible MG ZS which is planned later this year or earlier with a price of around Rs4million. Honda will fill the Rs4million +/- bracket with their 11th generation Civic in a year to 18 month time.
As of timing of the possible launch, the rumor is for late 2021 or early 2022 for HR-V while the replacement City is expected in August or earlier this year. Again, all this information is very initial at this stage and may or may not become a reality.   The more late they do, the more they lose the market share and then we are expecting a new generation of HR-V later this year in International markets, Honda Atlas is not that great to launch newer generation along side the international release. Means if Atlas brings HR-V in 2022, it will again be an older generation.
But keep your eyes and ears open because you might be hearing this in future and then don't forget that you read about it already on January 14, 2021 and no other than at Pakwheels .
Stay Tuned.