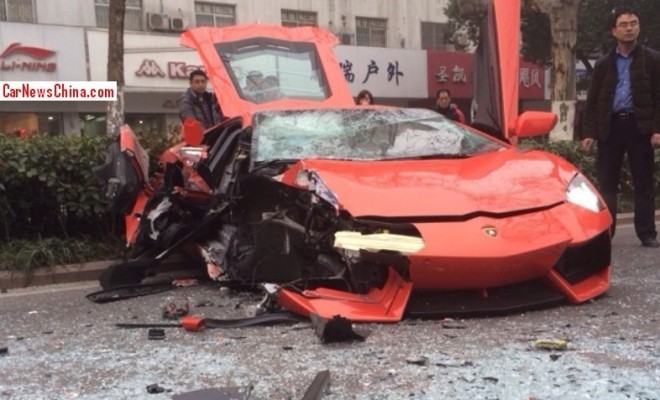 Another Lamborghini Aventador LP700-4 crash lands at the junkyard
When you are on the road behind the wheel no matter you are driving a daily driver car or an exotic gorgeous car, safety is paramount. This becomes more important if you are driving one of the world most wanted sports car that too a Lamborghini Aventador. Few months ago a white Aventadore splits into two in Brooklyn New York City.
Now recently  a bright orange Lamborghini Aventador LP700-4 crashed into a local bus in the great city of Hefei in Anhui Province, China. Initial reports say the Lambo was trying to overtake a car and went onto the other side of the road, and hit the bus head on. The driver of the Lamborghini was absolutely fine without any injuries. There was no passenger otherwise the outcome might have been diffrent. There were several people hurt in the bus including the bus driver. Police is still investigating the actual cause of accident. The Aventador costs 7.38 million yuan or 1.2 million USD.
Pictures courtesy: www.carnewschina.com