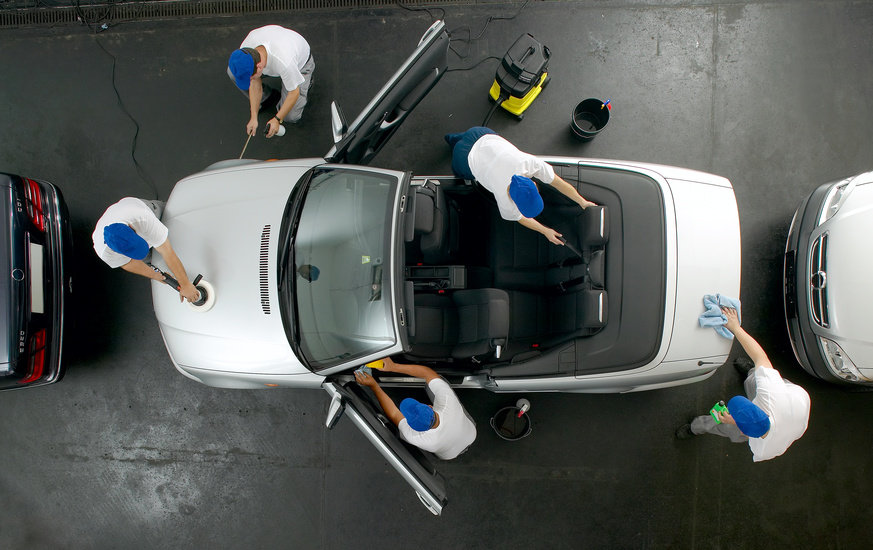 Detailing your car within an hour
We all like to keep our cars in immaculate condition, but to keep them that way requires a lot of effort on your part and time. To achieve a professionally detailed look on your car, you must have some of the tools which will help you in keeping your car shiny and safe from environmental hazard on a Sunday and to accomplish that task with spending as little as under 60 minutes, following are the most important stuff to achieve that show car look.
Removing the dust:
Most of us don't have time everyday to wash our cars, although it's not very favorable to a car's body because water enters into cavities in the body of a car where it's not possible to dry it easily but it is the best way to get off dust from your car's surface. Another way is to invest in some good quality microfiber clothes which have the tendency to collect dust very effectively and doesn't scratch the surface of a car.
The correct way of removing the dust by using a microfiber cloth is to damp the microfiber cloth completely with water and then use it to remove dust from the surface of the car. Water present in the microfiber cloth will prevent dust particle from scratching the surface of the car. Using a dry cloth will produce swirl marks on car's surface.
Use shampoo:
You have to attempt this step if and only if you are washing your car. Never use the shampoo which you use to wash your hair and also refrain from using any type of cloth washing or dish washing detergent because they contain harsh chemicals which will destroy the clear coat of your car. I would suggest you to choose Turtle ICE shampoo because the ICE lineup of turtle is excellent and provide immense shine instead Turtle ICE. Any other branded car shampoo can also be used as long as you are satisfied with it.
Use a soft cloth or a washing mitt to apply shampoo on your car, use small tooth brush to reach areas which are not accessible by your bare hands, rinse it off completely and then use microfiber cloth to absorb excessive water. Make sure that the surface of your car is dry before you move on to the next step.
Waxing and Polishing:
I may sound like a Turtle fanboy that is because I am using it for a very long time and quite satisfied with it. Secondly, I know a person who provides me with almost every Turtle product available here and internationally. There are many other good quality products present in the market such as Mother's, Meguiar's e.t.c. Almost every polish and wax contains a little bit of rubbing compound which provides the immense shine after polishing or waxing. It doesn't matter which product you use just make sure that it's original and of good quality.
Move from panel to panel of your car when applying polish or wax and keep one direction in applying it such as clockwise or anti-clockwise. Apply an even layer on your car's body. Never polish or wax your car when it's surface is hot.
Glasses:
Remove dust in the same way as mentioned earlier for the removal of dust from the car's surface. Use some newspapers or paper towel and a glass cleaner to have a streak free shine.
Do not clean with newspaper on the glass if you have tinting paper pasted on glass because it will produce swirls which will decrease the visibility. For such surface just use a clean microfiber and some water.
The Interior:
Use vacuum cleaner to suck of the dirt and particles stuck to your car's interior carpet and seats ( in case of fabric). Apply dashboard protection cream and gels available in various brands such as Armorall, Turtle ICE, Turtle Platinum e.t.c. Do not apply a thick layer to your car's dashboard and plastic or leather trims because it will attract a lot of dust and dirt and will leave you with unwanted grim present in your car.
If you don't have car's perfume installed then just use an air freshener and spray a great amount of it on the seats and carpet as they will absorb it and keep the interior fresh for a couple of days.
The engine bay:
Do not wash the engine bay of your car frequently because water can cause some great damage to the electrical components. There are more electrical items present in the engine bay these days as compared to inside of the car and believe me you don't want to mess with them.
Use a blower and a piece of clean cloth to remove as much dust as you can and avoid washing it. For greased parts use NASA carburetor cleaner to degrease them although the spray is for carburetor but it works very well in degreasing other parts also.
Precautions at the service station:
Remember to cover the generator and distributor of your car with a plastic bag before the service man hose it off with water. In case of an EFI car, cover the ECU because in many cars ECU are left uncovered such as the Corolla except Corolla Altis. Never ever allow the service man to spray oil on the underside of your car because dirt and little stones will stick to it and damages rubber parts such belts, bushes e.t.c.