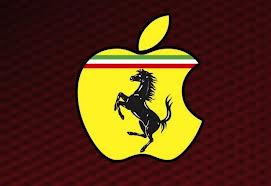 Apple's executive joins the board of directors of Ferrari
We were double minded before producing this post on our blog of the latest development in relationships between auto makers and cell phone giants. It is however very interesting to everyone that Apple, who looks forward to integrating its products into cars, have gone to join a niche market vehicle available to very few.
Apple's Internet software and services boss, Eddy Cue, has been named to Ferrari's board of directors and analysts have begun day dreaming about what will come out of this relationship.
Apple has though already partnered with nine auto makers to support Siri's "Eyes Free" feature. Chevy Spark and Sonic are going to be the first of cars to integrate this feature however, Ferrari is an exclusive and limited brand, so product association is the major reason for this hook up.
Nonetheless, Ferrari's have a reputation of catching fire themselves, let's hope Apple doesn't fall into those fires.